Hair Loss Diagnosis and Treatment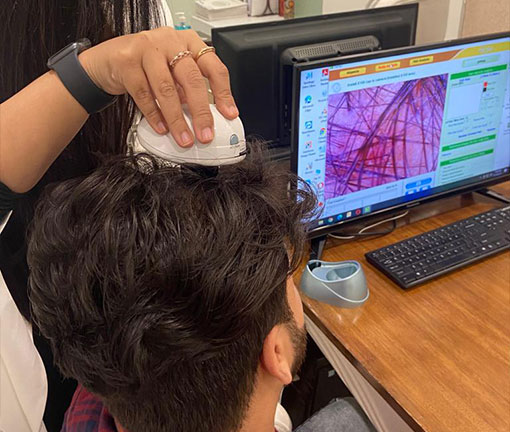 Hair defines a person's physical appearance, and beauty, these strands on your head make you feel confident and beautiful. Not just that, healthy and voluminous hair highlights not only your beauty but also the health of your body. Yes, your hair bears more than water, heat, and toxic hair washes. They reflect your inner health and remain so until your mental and physical health gets better. Hair loss is a common issue that we all face, but do you know the science behind it? Let's have a closer look.
Why and when does hair loss happen?
Alopecia or Hair loss is a relatively common condition. It can manifest in various ways, based on what is causing it. It can strike suddenly or gradually, and it can affect only your scalp or your entire body.
The following symptoms may provide some indications:
Widening Part: If you part your hair, you may realize that your part is becoming more expansive, which can be a sign of hair loss
Hairline receding: If your hairline appears higher than usual, it could be a sign of hair loss
Patches of baldness: These can vary in size and develop over time.
Itching or pain:  If you have an inherent skin condition causing your hair loss, you may also experience pain or itching on your scalp.
Some of the causes of hair loss are:
Androgenic alopecia: Hereditary or pattern baldness affects far more men than women. It usually happens gradually. While some people experience hair loss as soon as puberty, others may not exhibit symptoms until they are in their forties.
Age: Most people notice hair loss as they age because hair growth slows. Hair follicles eventually stop producing hair, causing the hair on the scalp to thin. Hair begins to lose color as well. The hairline of a woman gradually recedes.
Medications and nutritional supplements: Certain drugs, such as those used to treat arthritis, cancer, depression, heart problems, and high blood pressure, can cause hair loss.
Stress: Stress can result in hair loss. Hair loss caused due to stress usually occurs within three to six months. However, any systemic shock such as surgery, burns, or severe accident can also shock the hair follicles and prevent hair growth.
Extreme Hair Care: In an attempt to achieve a fashionable hairstyle, you may cause extensive damage and breakage, resulting in hair loss. Shampooing or blow-drying too frequently, pulling on hair — whether while blow-drying, using heated styling tools too frequently, styling hair in an overly tight ponytail, or rubbing the scalp too vigorously can all lead to hair loss.
Nutrient Deficiencies: Deficiencies in specific vitamins and minerals, which help in the hair growth cycle and cellular turnover, can result in hair loss and decreased hair growth.
What kind of Norwood scales are in men, and what kind of Ludwig scales are in females?
The Norwood scale is the most widely used classification system for determining the extent of male pattern baldness. It defines seven stages of baldness, beginning with a full head of hair and progressing to stage 7, when baldness begins to affect the sides of the head, and only a thin ring of hair encircles the exterior of the head.
The Ludwig classification system assesses the severity of female pattern baldness. The Ludwig classification system is divided into three stages: Type 1 indicates early signs of balding, such as on top of the head or a thinning crown, while Type 3 is the most intense, with hair considerably decreased on top of the head and crown.
Why is diagnosis important before taking hair loss treatment?
Each person's reason for hair loss is unique. Some may experience it due to stress, while others may experience it due to autoimmune diseases. As a result, accurate diagnosis is critical for determining the best treatment.
DIH medical experts examine your medical history and blood test results. They perform a thorough scalp and hair scan before tailoring a treatment plan specifically for you.
Why is DHI UDSA- Unique diagnosis alopecia tests the best way before taking the treatment?
We at DHI Global Medical Group believe diagnosing hair loss is better before treating it permanently. With this goal in mind, we created the Unique Diagnostic System for Alopecia (UDSA), a highly sophisticated hair loss diagnostic system. The main aim of this procedure is to curate a customized hair loss treatment option that is exclusively designed for you based on your medical history, blood tests, and scalp scan. It consists of four major components:
DHI alopecia test
Psychological Aspect
Dermatological aspect
Mathematical aspect
Before determining the appropriate treatment plan, the DHI Alopecia Test evaluates each case individually, such as mathematical aspects of available hair, dermatological examination, and psychological aspects. A team of world-renowned experts created UDSA to provide an accurate and personalized diagnosis for all types of alopecia – hair and scalp disorders.
What are the treatment options available in the market? What is the negative impact of those treatments?
At-home treatments for hair loss: When looking for hair loss treatments, at-home treatments are the first option. It includes the use of topical creams after consulting with dermatologists. Minoxidil is an ointment that can help with early hair loss but cannot regrow an entire head of hair.
Microneedling: Microneedling is recommended as a suitable method for stimulating hair growth. This method passes tiny needles across the scalp, penetrating the upper dermis. However, just like any other procedure that involves skin cutting, it can result in infection.
Hair transplant: If you have thinning or balding hair, then your dermatologist may suggest a hair transplant for a permanent hair loss solution. The procedure guarantees healthy hair growth in bald or thinning areas. However, recovering from the procedure and results may take longer to be visible. Book your hair transplant session at DHI Clinics. Hair Transplant in Delhi, Hair Transplant in Chennai, Hair Transplant in Kochi, Hair Transplant in Lucknow, Hair Transplant in Gurgaon, Hair Transplant in Bangalore, Hair Transplant in Kolkata, Hair Transplant in Jaipur, Hair Transplant in Calicut, Hair Transplant in Hyderabad, Hair Transplant in Guwahati, Hair Transplant in Coimbatore, Hair Transplant in Chandigarh
Laser therapy: Laser/light energy is used to enhance hair regrowth. Moreover, the laser does not leave any marks or scars on the skin. However, the treatment may cause headaches, red scalp, burning sensation, and itching.
What kind of hair loss treatments are available at DHI International medical group?
Hair loss is a systemic disorder that requires a systemic approach. We offer a variety of hair loss treatments at DHI International Medical Group, including:
Direct Hair Implantation (DHITM) technique: The DHI surgeons implant the hair follicles using patented DHI Implanter one by one directly into the affected area on the scalp that needs to be treated for hair loss. With the help of the most advanced DHI technique, beard and Eyebrow transplants are also very effective.
Direct Hair Fusion (DHF) or cosmetic hair patch is a non-surgical hair replacement procedure used to treat people with severe alopecia. At DHI, a customized 'hair replacement system' from Europe is curated for each patient.
Scalp Micro Pigmentation: This procedure involves the application of specialized hypoallergenic medical pigments to the dermal layer of the scalp to mimic the natural appearance of actual hair follicles. DHI's MPG treatment creates natural-looking hairlines complimenting your facial shape, style, and appearance.
Platelet Rich Plasma (PRP): PRP is a non-surgical treatment used to treat hair thinning, arrest hair loss, and promote growth. It takes place by injecting plasma into the scalp to stimulate the follicles. The PRP is activated with growth factors to stimulate inactive or newly implanted hair follicles into an active growth phase. Regular PRP use prolongs the Anagen phase of the hair growth cycle.
Growth Factor Concentrate Therapy (GFC): Growth Factor Concentrate Therapy or GFC treatment is a highly safe, dedicated, concentrated growth factor preparation from the candidate's blood cells to offer superior natural results. Blood Platelets are enriched with various growth factors. Wockhardt Scientists extract them from the blood at a high concentration as a Growth Factor Concentrate is a specially designed Workhardt GFC kit. The collected GFC is then administered at the site and treated with precise tools and specialists. The overall process involves no platelet loss and is non-pyrogenous, secure, and regenerates damaged tissues naturally. This advanced and latest hair loss treatment helps a person get the best results in only 3-4 sittings. Therefore, it is considered the best procedure to restore lost hair.
Get the Best Hair Care Products at DHI
DHI offers a wide variety of hair care products, such as shampoos, conditioners, capsules, laser caps, and much more.
DHI provides two shampoos: Vitalising Extra Mild Hair Fall Reduction Shampoo, which soothes the scalp and accelerates follicle growth, and The Biotin Enriched Hair Fall Reduction Shampoo, which prevents dullness and hair thinning. Hair conditioner includes essential oils that moisturize and soften the hair. Hair vitamins promote hair growth, hair strengthening, healthy roots, and density improvement.
LLLT treatment and Benefits of DHI Laser Cap
Laser wave technology treats abnormal hair loss on the head by utilizing the biological effects of laser on the skin. The therapy aims to allow a specific wavelength laser to seep into the cells under the head towards the deepest layer to regulate endocrine, boost blood circulation and enhance hair quality.
It is not just a product but an entire hair loss treatment that can be done in the comfort of your home, office, or any place you travel. DHI Laser Cap with Medical Laser Diode stimulates skin tissues, promotes thicker hair follicles, heals damaged cells, reverses hair loss, aids hair thinning treatment, and improves cell absorption and protein synthesis. It also helps with local blood circulation. It is most successful in women and men experiencing early to moderate hair loss and thinning.
Why choose the DHI technique for a permanent hair loss solution?
With the experience of over 52 years, DHI has been treating hair loss successfully since 1970 around the globe. With the most potent research advisory board, DHI is regarded as the gold standard in hair restoration. We have US & EU patents. Our brand is recognized by CQC, ISO, TUV – Austria, ACHS – Australia, and World Health Academy.
DHI team consists of qualified and LH RTA-certified medical doctors.
To ensure complete safety, DHI experts adhere to strict protocols at all stages of the procedure.
At DHI, the viability rate of grafts is more than 90% compared to the industry standard of just 50%
DHI gives complete control on an angle, depth, and direction for 100% natural results
All of the procedures at DHI are virtually painless.
Why DHI- Direct Hair Implantation?
DHI Medical Group is unique in the world of hair restoration in having created its technique: The Direct Method of Hair Transplants. The company's legacy dates back to 1970 in Palo Alto, California, where the first clinic was founded. Over the past 52 years, DHI Medical Group has dedicated itself to a single goal of innovating and delivering the best solutions in hair restoration to hair loss sufferers around the world. DHI's patented tool, the DHI implanter, provides 100% natural results and maximum viability. DHI has transformed the lives of over 300,000 people around the globe by providing them with the best transplant procedure.
DHI Versus FUE Versus FUT technique
DHI is a virtually painless hair transplantation method in which the extraction and implantation processes are carried out simultaneously, excluding a break time. It is a natural hair transplant procedure. DHI leaves no scar on the scalp, and the recovery takes one day. Global protocols are followed while carrying out the procedure, and there is complete control of angle, depth & direction. Hence offering o100% natural results. At DHI, surgeons only perform hair transplant surgery, and no assistant or nurse touches the patient's scalp.
Follicular unit extraction (FUE) is a virtually painless hair transplant procedure in which each hair follicle is extracted from the slits made and moved to another part of your body where the hair is thinner or absent. The procure leaves behind scars on the scalp. It takes around a week to recover. No written protocol is followed during the procedure. And there is no control over angle, depth & direction.
Follicular Unit Transplantation (FUT) is a type of painful hair transplant in which a piece of tissue is removed from the back of the scalp, and each hair follicle is inserted at the blading region. It leaves behind a prominent scar. No written protocol is followed during the procedure. The recovery takes at least two weeks with no control over angle, depth & direction.
DHI has successfully transformed the looks of over 300,000 people around the globe. But at DHI, 37% of the procedure are repair cases wherein these patients have undergone transplant procedures at other clinics that offer cheap services. However, DHI's technique and expertise make such patients return to DHI to get 100% natural-looking results which the cheaper clinics couldn't give them in the first place. These patients undergo transplant procedures at DHI with proper Global Protocols followed, and they finally get the looks they want.
Patients' testimonials and DHI Hair Transplant results
Priyank Singh Deshwal "I recently had my hair transplant surgery from DHI. I would sum up my experience as follow:

Hospitality was top notch and they will let you have a friendly and comfortable environment.

Centre was neat and clean.

Professional staff and doctors. Mr. Tanuj Dua explained the surgery in such a way that all my worries went away, then Dr. Kalpana handled my entire consultancy and follow up taking my experience with DHI to another level. The surgeon (Dr. Sanjeev) performed the surgery brilliantly as I wasn't feeling any pain or aftereffects. You might find DHI a bit costly but believe me, it's worth it as you won't be having any scars unlike other clinics indicating that you have undergone a hair transplant surgery."
Prince Gulyani: "After exploring a lot of clinics, I found DHI as the most effective place where one should visit if facing any hair fall issues or looking for a transplant. All the staff is very helpful and give their best to meet the satisfaction of clients. I had my surgery 3 years back which changed my personality, and life and boost my confidence. The best thing I like is that they always take care of patients and do regular follow up with them even after surgery. A perfect place if anyone exploring hair fall issues."
Sujith Koyyagura: "Went through my hair transplant with DHI Chennai on September 29th, 2021. Been almost 10 months today. Very good results and especially the hairline is looking very natural. The treatment cost might feel a bit expensive compared to other local clinics. But I felt the experience of the doctors and the hygiene maintained during the surgery process is extremely satisfactory which will not be available with other clinics. The staff is also very supportive. Happy that I found DHI after a long research on the internet and YouTube."
Varun Anand: "I had the hair transplant procedure done in June at DHI Kochi. The staff was friendly and very professional. During the initial consultation, the doctor explained the entire process of transplantation and the post-procedure steps in detail. No false promises were made. The facility is modern and super hygienic. Dr. Roby and Mr. Jeomon were super friendly and made me comfortable before and during transplantation. After the procedure, I had regular follow-up calls guiding me through the post-procedure care. A big thank you to the entire team at DHI."
Kuma Mayank: "It was a wonderful experience to get a hair transplant at the DHI Lucknow. I came to know about this clinic from the internet and then went for a hair transplant in February 2022, based on my personal experience of a successful surgery, I would highly recommend DHI Lucknow. The staff is also very friendly and keeps giving reminders for the tests and other appointments before and after the surgery. Thank you, DHI"
With over 52 years of experience in Hair Restoration and helping 3,00,000-plus patients worldwide, it has been a long journey filled with experience and wisdom. We at DHI are here to give you a thorough treatment for your hair loss problem. Our hair experts will guide you and customize your best treatment plan. Contact us today and book a hair loss diagnosis consultation with DHI hair specialists.