Regenera Activa – A Revolutionary Regenerative Technology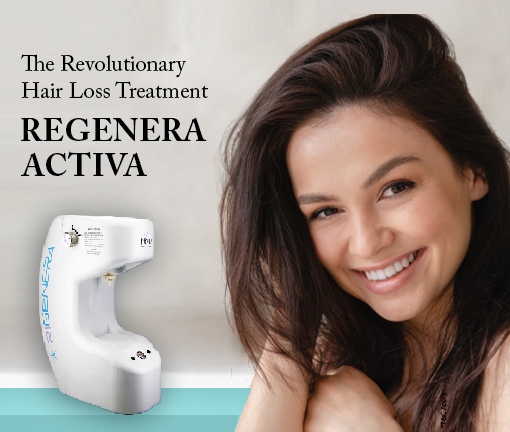 Are you having trouble controlling the excessive hair loss you experience every day? We know how painful it is to lose every strand of your precious looks. DHI has the best treatments for hair loss that deliver positive results. So, if you are looking for different methods to improve hair growth, then here is this in-depth guide on Regenera Activa, an advanced non-surgical hair loss treatment.
This alternate method of treating hair loss is a quick and efficient way to stimulate new hair growth. But before you dive into this cure, let us know what exactly this treatment is.
What is Regenera Activa?
A potent and one-time hair regrowth treatment called Regenera Activa promotes hair growth by stimulating capillary channel regeneration. This is a completely safe procedure. Samples are taken from the patient's body and then processed to obtain a micrograft solution with activated progenitor cells. It utilizes the body's own tissue regeneration mechanism to stimulate the growth of follicles and strengthen miniaturized hairs. Regenera Activa is a cutting-edge therapeutic method. While hair growth and hair thickness are stimulated by the treatment, it also inhibits hair loss.  
Hair fall is a part of daily life, those hair that die out for any reason fall off from your scalp, however active regeneration cells in your skin allow hair to grow back in time. But, reasons like heredity, hormonal changes, age, and medical changes can lead to permanent hair loss. While some cases are irreversible, cases like early hair thinning and pattern hair loss can be treated through effective and less invasive methods like Regenera Activa.
This procedure has been proven effective with its wonderful benefits including:
● It is a safe method and limits the use of outside resources because it treats the patient using progenitor cells from their own body
● The patient only needs to undergo one painless session; multiple doctor visits are not necessary
● It is a safe and a minimally intrusive treatment
● As there is virtually zero downtime following the treatment, patients can immediately resume their normal routines
● Fast tissue preparation and natural tissue breakdown make it a quick and efficient procedure
Just as effective as this treatment is, it is extremely rare and is done by doctors in DHI clinics. Our doctors ensure that you get optimum results. The procedure requires expert eyes, key knowledge, and training to perform the treatment. We have well-trained doctors and fully equipped machinery to provide hassle-free treatment.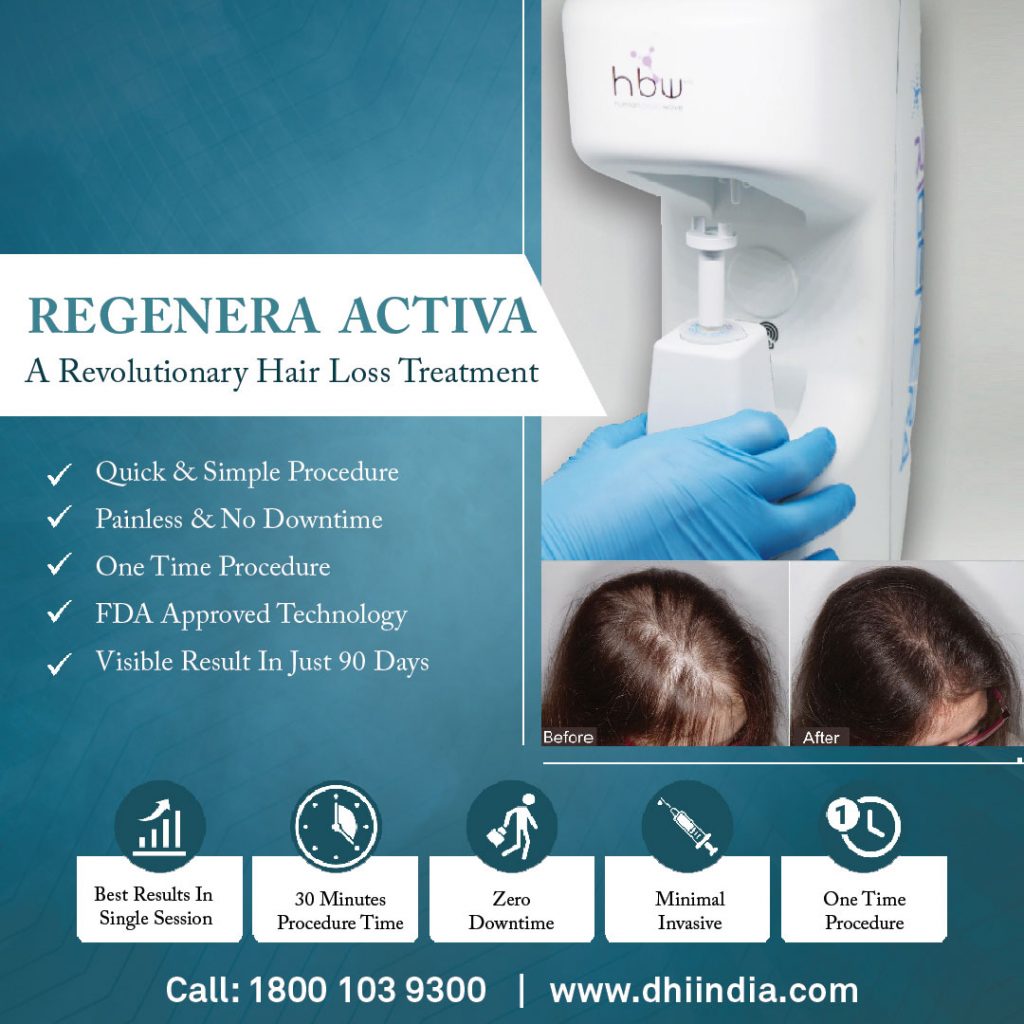 Regenera Activa is a tried and tested treatment around the world.
● FDA-approved technology
● More than 1.5 lac people have benefitted from this
● A minimal-invasive process and takes max 30 minutes
● It is painless and allows the patient to do regular chores immediately after the procedure
● Visible results expected in just 3 months
● The procedure is required only once a year
The procedure 
We follow a 4-step simple process to efficiently carry out the Regenera Activa procedure:
Examination of your hair and scalp
We need to understand the cause and situation of your hair loss. Therefore, a thorough analysis of your scalp & hair is performed to figure out the status of your scalp health.
2. Extracting samples
Once done with an in-depth inspection of the scalp, we move on to extract 3-6 samples from the patient's back of the ear. This step is virtually painless and an important part of the whole procedure. The extracted grafts have progenitor cells which are then processed further.
3. Preparing the solution
The extracted grafts are put into a disposable kit and which is further processed through special mechanisms and devices to separate cells. In this step, automated mechanical disaggregation happens. It helps in separating the grafts into micro-grafts containing progenitor cells, which have regenerative capabilities. These micro grafts, abundant in progenitor cells and growth factors, are combined into a solution. This solution is the actual source to help you regrow hair and reduce hair fall. 
4. Applying the solution
Finally, this healthy solution is applied to affected areas by our experts through microneedles, allowing the regenerative cells to penetrate the scalp and begin the healing of roots and strands.
This whole procedure takes about 30 minutes without any downtime. The efficacy of this treatment begins to show in a few weeks and within 90 days you should start to see positive results.
Our procedure is designed to understand the case and help you choose what is best for you. Our experts are specially trained for this treatment, we make sure you get the accurate treatment for your hair loss problem. 
Who can take the treatment?
Being an effective and minimally invasive treatment, Regenera Activa poses no boundaries for patients. Both males and females can take this treatment. Pregnant women can't receive this treatment. In addition, the treatment may not be advisable in certain cases, like the procedure is not for people suffering from rapid hair shedding and will also not show any results if the area is having advanced hair loss or is completely bald. We will recommend a hair transplant using the DHITM – Direct Hair Implantation Hair Transplant Technique. Unique hair loss diagnosis allows us to find these very crucial answers to help you with the process.
There are visible results of Regenera Activa which can be seen in just 3 months of the procedure and the full result might take up to six months after receiving the treatment. Both men and women who receive this cutting-edge treatment experience increased hair volume and thickness. Of course, individual results may vary, so for the best outcomes, it is always important to speak with DHI experts. The effects of treatment are however not permanent but can last up to 2 years. The best part is that the treatment can be repeated in 1-2 years.
So, if you are planning to join this club of successful hair growth, it is better to ask the correct questions from your doctor before knowing how it functions exactly. We try our best to be transparent always with our clients. Therefore, whatever questions you have about this treatment, we are always ready to serve you better throughout. Contact us for more information.
This content is written and reviewed by Dr. Kuntal Deb Barma and Dr. Nishat Fatima.