Why Diagnosis is important before choosing Hair Transplant Treatment?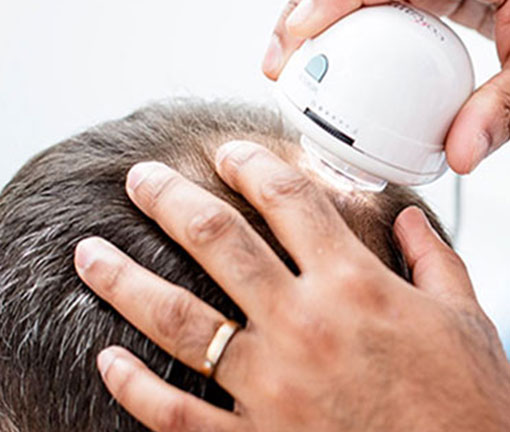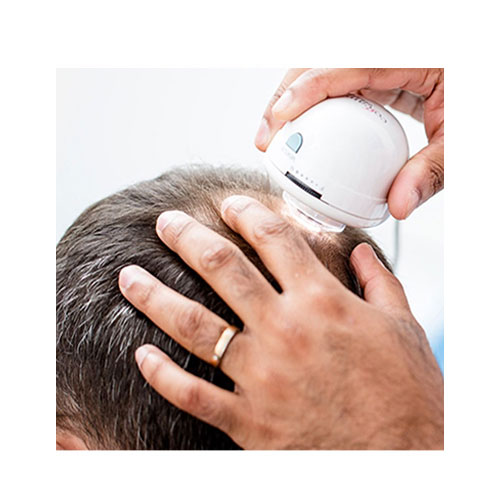 The reason for hair loss is different for each patient and hence the hair restoration treatment plan is also different. Unlike other clinics, where the surgeon gives random suggestions of 3500 hairs just by looking and touching your scalp.

At DHI, we firmly believe that the correct diagnosis will provide the finest treatment and delivers successful and permanent results. Besides taking your medical history and reviewing your blood test results, we will also do a detailed scalp and hair scan to ascertain your scalp condition and hair density, and only then we will propose you a personalized treatment in accordance with your condition needs. ​Direct Hair Implantation DHITM stand for quality, lifelong, natural-looking results! This is why DHI Medical Group has developed a very sophisticated diagnostic system for hair loss, the Unique Diagnostic System for Alopecia (UDSA).
DHI is an advanced hair transplant technique that helps people get their hair and happiness back. In the DHI hair transplant session, the hair follicles are removed one by one from the donor site using an extraction tool and transplanted into the affected bald area using an advanced implanter.
However, before going for the DHI Hair transplant procedure, the patient needs to have perfect health. Therefore, at DHI clinics, we offer a scalp diagnosis, where the patient understands the type of hair fall or baldness and its requirement to cover the bald area and medical history, and desired results they want to achieve in the end. Based on all the information collected in the UDSA, the DHI doctors make a customized DHI hair transplant treatment plan for them.
Scalp diagnosis is mostly accompanied by a health checkup. The DHI doctors want to offer the best possible results to the patients, which is hard to achieve if their health is not perfect. So, they suggest various health checkups before the DHI Hair Transplant procedure.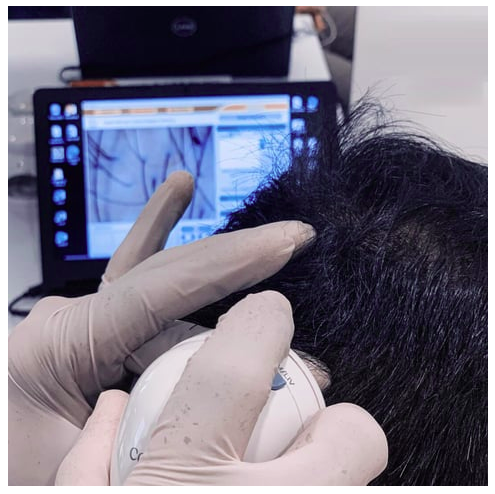 Here is a list of tests before a DHI hair transplant procedure:
The patient goes through computerized alopecia tests to determine the correct number of hairs that needs to be implanted which gives maximum density and permanent results. Routine blood tests are required before getting a DHI hair transplant as it helps surgeons understand your fitness and determine the candidate's eligibility. Some common tests are CT, Anti HCV, PT, HBV (HBsAg), CBC, Random blood sugar, and HIV 1&2. If you are over 45 years old or have any cardiac-related issues, an ECG (Electrocardiogram) along with an examination report from a cardiologist should be submitted prior to the operation.
These simple tests decrease the chances of complications during the procedure. Your doctor will analyze all the reports before the procedure to avoid complications.
Body Glucose Test: Body Glucose Test or HbA1c test helps monitor the blood sugar levels and understand if the patient has diabetes or not. The optimal blood sugar level for hair transplant surgery should be balanced- if it's high, the doctor will ask you to manage it up.
However, a diabetic patient can still get a hair transplant if they consume controlling medicines regularly. The doctor will customize the plan for diabetic patients, limiting the number of grafts to promote proper and fast wound healing.
HIV Test: HIV test is another common test that is required to take place before a hair transplant. HIV is a virus that directly attacks the body's immune system and decreases its power of fighting infection. It leads to AIDs. If the patient's report is positive, the hair transplant is not performed.
Hepatitis B and Hepatitis C Tests: Hepatitis B and Hepatitis C are other severe viral infections that impact liver functioning. These are transmittable and very infectious, and therefore, if the result of this test comes positive, the hair transplant is not performed on the candidate to avoid infection risks.
Coagulation Tests: Coagulation tests allow doctors to understand how much time blood takes to clot and evaluate the risks of bleeding during a hair transplant. If the candidate has a poor blood clotting issue, the doctor will avoid performing a hair transplant. This test is very important before undergoing surgery.
Blood Pressure Measurement: The doctors usually measure the candidate's blood pressure before surgery. And the optimal blood pressure for hair transplant surgery of the patient should be normal. It can't be performed in the case of low or high blood pressure.
The blood pressure can also be impacted when the candidate is tense or not getting proper sleep, which is not serious. Even the candidate with a blood pressure medication history can also get a hair transplant after their physician's approval and take medication to control blood pressure at the time of surgery.
Other commonly done tests are ECG/EKG for candidates with cardiac complaints and hypertension. Some tests that will give a clear image of hair loss, like serum iron/ferritin profile, thyroid profile, and hormone tests, are also required to make the process less complicated.
Additionally, in this present COVID-19 situation, the COVID -19 RT PCR test report is a must to submit before a hair transplant.
Which cases are not eligible for hair transplant after tests?
The candidates with heart-related issues or anyone undergoing cardiac surgery are not considered the best for undergoing a hair transplant procedure. Additionally, candidates with kidney or liver-related chronic issues are not a good match for this treatment. Local anesthesia is required in hair transplants procedure, and candidates with these issues can't be put on local anesthesia because of potential health issues.
Other Precautions to take before DHI Hair Transplant:
The doctors ask candidates to take a few precautions before going for a DHI hair transplant as it may create complications in the procedure. Here are a few things to follow:
Stop Smoking 2 weeks before a hair transplant.
If your doctor asks you to prevent some routine medications before the surgery, stop their consumption.
Avoid fast food and oily and spicy food a day before surgery.
Inform you about any new allergy to your doctor.
Stop consumption of blood thinners or medicines like aspirin and herbal medicines before hair transplant 2 days before hair transplant procedure to avoid extra bleeding during the process.
What is hair loss analysis and pre-examination at DHI India Clinics?
DHI India makes sure that every candidate should have a general medical examination first to get an idea about their health condition. This examination gives data about chronic disease and allergies.
Additionally, the specialized doctors check the candidate's past health reports and health family history. After understanding the health condition and hair loss analysis, the suitable hair transplant treatment plan and procedure for the candidate are determined. Also, this helps our doctors to understand the actual reason for hair loss. In some cases, this process is accompanied by blood tests to get a clear idea about any systemic disease. It helps to deliver 100% natural and permanent results for each candidate.
DHI India has a unique diagnostic system for Alopecia (UDSA) that can diagnose types of Alopecia. It includes dermatological examination, precise mathematical count of donor and recipient area, computerized Alopecia test, and psychological aspects.
We ensure to work systematically; therefore, pre-examination and hair analysis are two important steps of the diagnosis stage. Schedule an alopecia diagnosis consultation now if you want permanent life-changing results after your hair transplant procedure at DHI India!
So, book your consultation now if you want to enjoy permanent results and get your hair transplant procedure from the DHI-certified the best hair transplant doctors/surgeons, and the best hair transplant clinics in India!