Patient Feedback on His Hair Transplant Procedure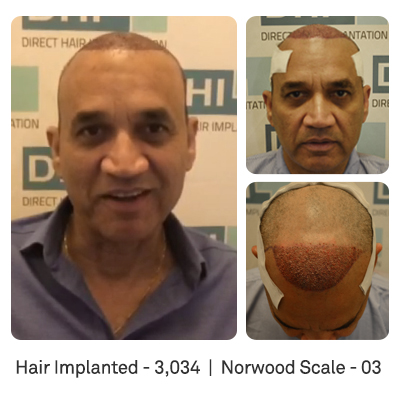 Patient Feedback- Deepak Chopra speaks about his hair transplant experience.
Number of hair implanted 3034, Norwood Scale – 3. Watch the video to know more.
Do you think hair transplants are only meant for the high net worth individuals due to it's hefty price tag? Well, you should reconsider. DHI, since it's inception in 1970, has been instrumental in the hair restoration sphere. Feedback and experience sharing from Deepak and more of our customers can help you get over your apprehension about hair transplant procedures.
DHI's Direct Technique is the safest and most effective hair transplant technique available today. Every procedure at DHI is done end to end by highly qualified and trained doctors… No assistants touch the patients at DHI!
Click here to Book your consultation with our expert doctors.