Hair Transplant v/s Hair weaving: Which is better?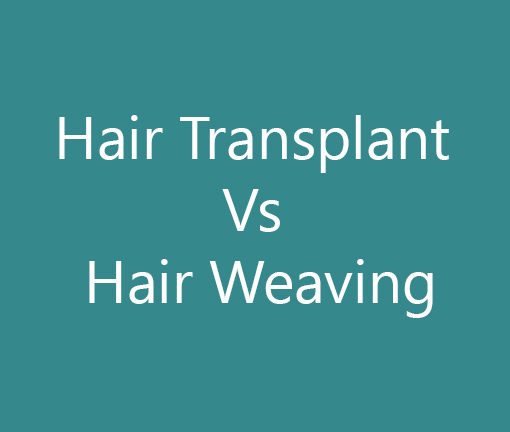 Hair Loss is very stressful as it impacts the personality traits of a person, like less confidence, and lowers self-esteem. People of all ages can suffer from hair loss, but it is most common in middle-aged. Nowadays, Bollywood has also started focusing on how hair loss in males and females can impact their life. And movies like Bala, Ujda Chaman, and Gone Kesh are a few examples of it.
So, why do people suffer from hair loss? Several factors, including lack of nutrition, excessive stress, sleep, genetics, hormonal changes, anemia, or normal aging, can cause hair loss or hair thinning. Fortunately, there are several solutions offered by hair restoration clinics in India that can temporarily or permanently resolve hair loss problems. This blog will explain this in detail.
Different hair loss solutions available in the market:
Excessive hair loss can cause pattern or complete baldness. To solve this problem, one must look for the right solution at the right time. Luckily, several hair loss solutions are available in the market; some are permanent, while others are temporary. Depending on the requirement, one can choose the best available option.
Sometimes, hair transplant clinics and surgeons try to fool their patients. They acclaim homeopathy medicine, oils, serums, and several false treatments. But applying these on the scalp can never solve hair loss-related problems completely. According to scientists, oils, serums, or any other medicines only offer the best results when they are accompanied by the proper treatment. If you are undergoing any hair loss treatment, ensure that your surgeon or doctor diagnoses the hair loss problem properly and then suggests the best treatment for you.
DHI International Medical Group, a global pioneer in hair restoration since 1970. DHI Medical Group is unique in the world of hair restoration in having created its technique: The Direct Method of Hair Transplants. The company's legacy dates back to 1970 in Palo Alto in California where the first clinic was founded. Over the past 52 years, DHI Medical Group has dedicated itself to a single goal of innovating and delivering the best solutions in hair restoration to hair loss sufferers around the world.
Today, DHI International Medical Group is the world's largest chain of hair restoration clinics with 75 clinics in 45 countries including 16 clinics in India. DHI continues to lead innovation in the world of hair transplants through its research and development centers, partnerships with top universities, and a global board of advisors including the most accomplished dermatologists and scientists. DHI has been awarded both US and EU patents.
There are non-surgical and surgical hair loss treatments available at DHI hair restoration clinics.
Non-Surgical Treatment for Baldness Problems: Hair Weaving, DHF, Cosmetic Hair Patch, or Hair Weaving:
The non-surgical hair loss solution available at DHI India is Hair Weaving or Cosmetic Hair Patch or Direct Hair Fusion. The patient who is completely bald and doesn't have a strong donor area can opt for the non-surgical hair loss treatment.
The hair weaving or DHF treatment is completed within an hour, and the result is instantly noticeable. The cosmetic hair patch of natural hair is designed after measuring the bald spot. It can be easily attached and detached on the spot whenever needed. It costs less than a hair transplant.
The hair weaving or cosmetic hair patch or DHF is the world's finest customized quality hair system that offers any choice of hairstyle made of natural human hair that matches hair color and texture. It is hard to identify the difference between natural hair and patch because it is customized for each candidate by DHI clinics.
Numerous non-surgical treatments for baldness problems are available in the market. In case you are looking for a non-surgical solution that offers natural and dense results immediately without impacting your skin or scalp, Direct Hair Fusion (DHF) is the best for you.
Hair weaving or Direct Hair Fusion (DHF) or cosmetic hair patches is the most advanced non-clinical hair replacement technique. It is appropriate for men and women with high-grade alopecia. At DHI India, this technique has an advanced hair replacement system that involves a delicate, skin-friendly membrane that has tiny pores with 100% human virgin hair woven to match the density, color, and texture of existing hair on the scalp.
DHI experts ensure that the hair weaving or cosmetic hair patch prepared is designed after proper diagnosis, analyzing the bald spot's dimensions, and preparing a mold of it. They also take a small sample of the candidate's hair to ensure the patch matches the scalp hair texture correctly. It allows them to offer a 100% natural look for this non-surgical technique.
What makes hair weaving or DHF at DHI India different from non-surgical techniques offered at other clinics?
Custom Design: DHI Specialists customize the hair patch for each candidate. The 'hair replacement system' is made in Europe as per the order. The overall arrival takes around 3-4 weeks. After DHI Specialists receive the customized hair patch, they fix it on the scalp of the candidate with the help of skin-friendly materials.
Performed by Professionals: Unlike other clinics, at DHI India, the entire process is performed by highly trained DHI professionals and experienced hair stylists while following world-class procedures. The entire process takes around an hour to complete.
Beneficial for men and women: DHF can be performed on both men and women. Most clinics offer cosmetic hair patches or hair weaving only for men, as matching the length of women's hair is tough for them. At DHI, we designed DHF while keeping this problem in mind. Depending on the hair density, length, and color, the person's 'hair replacement system' is customized.
Nearly Permanent: DHF may require maintenance every 20-30 days, but it is also significantly less than other non-surgical solutions available in the market. Unlike other solutions, you don't have to remove it constantly while coming into contact with water. You have the freedom to comb, style, dry, or wash it anytime. However, you would need to replace it off your skin in 5-8 months, which is again a much more extended time than other techniques.
Once the customized patch is fixed on the scalp, candidates may occasionally experience some uneasiness for 3-4 days. But once they get used to it, they admire the natural and dense hair look.
View more before and after hair weaving or cosmetic hair patch results.
Surgical and Permanent Hair Loss Solution: DHITM – Direct Hair Implantation:
The surgical option to get a permanent solution for hair loss is a DHI Hair Transplant procedure. In a hair transplant treatment, the hair loss problem is solved permanently. The hair transplant surgeon surgically transplants the hair from the donor area to the impacted/bald area.
It provides a natural appearance, and the transplanted hair grows naturally and is easy to maintain. Hair transplant can be done following different techniques, including FUT (Follicular Unit Transplantation), FUE (Follicular Unit Extraction), and DHITM (Direct Hair Implantation).
The DHI is the most advanced technique and offers a painless procedure and 100% natural results every time with maximum density. There are no scars and scalpels. The end-to-end procedure is performed by the surgeon. No technician or nurse touches the patient's scalp. The hair transplant surgeon will suggest the best surgical technique after diagnosing your hair loss problem.
Direct Hair Implantation (DHITM) is a patented technique performed at DHI Clinics only by doctors trained and certified at DHI academy. It is a painless procedure where follicles are implanted directly in the scalp. It is the most advanced form of the FUE technique, where the extracted grafts are implanted in the bald area.
In this procedure, the head is shaved off or unshaven, and local anesthesia is administered to the affected area. With the help of surgical tools with a fine tip, the hair follicles are extracted from the back side of the head. They are stored in a unique solution and at a specific temperature.
The exacted follicles are then implanted into the recipient area using specially designed patented tools. This technique can be used to restore hair on the scalp, beard, or eyebrows.
This advanced hair transplant technique aims to offer a permanent and natural hair loss solution for people suffering from Androgenic Alopecia.
Both men and women are eligible for this treatment. Whenever you have to find the best solution for your hair loss problem, visit the DHI hair transplant clinic which has a team of the best surgeons, that offers the overall scalp diagnostic and has a trustworthy past client portfolio and reviews.
What makes Direct Hair Implantation at DHI India different from surgical techniques offered at other clinics?
Master Surgeons: DHI has a team of master surgeons who follow global protocols. It helps them ensure preciseness throughout the process. It helps them to offer a more than 90% graft survival rate. The entire procedure is performed by DHI surgeons from start to end.
Strict Quality Control System: DHI follows a strict quality control system authorized by international authorities, including the international system organization (ISO) and UK CQC, to ensure the best results from the hair transplant. Each transplant is performed with patented titanium-coated single-use instruments.
More than 90% survival rate: DHI technique performed at DHI International Medical Group offers a 90% graft survival rate. At the same time, the survival rate of transplanted hair is less than 50% of other clinics. Many candidates also choose DHI to repair the results of past hair transplant techniques from other clinics. Around 37% of all the performed techniques at DHI are repair cases.
Cost Transparency: Unlike other clinics, DHI India has specific guidelines to calculate hair transplant costs. Following the number of grafts to be transplanted to offer the denser look, DHI calculates the entire cost. During the diagnosis of the scalp, the DHI specialist gives an estimated cost of the hair transplant to the candidate, which can differ from person to person.
View before and after hair transplant patient's results.
Which one is better: A non-surgical or surgical Hair Loss Solution?
At DHI India, both non-surgical and surgical hair loss solutions are available. hair weaving or DHF and Hair Transplant by DHITM technique, both can solve different problems for different people. If you don't have enough donor hair on your scalp or are looking for instant results, choose DHF. Otherwise, a DHI hair transplant is the best way to get a permanent and lifetime solution for hair loss problems. It is a one-time solution that doesn't require much maintenance in the long run.
Another thing to consider, the costs of both techniques are different. A Hair Transplant is a surgical procedure, so it costs a bit higher. However, it offers permanent results that non-surgical techniques can't.
On the other hand, non-surgical solutions, including cosmetic hair patches or direct hair fusion, or hair weaving, require regular maintenance, and you would have to replace them after a decided period. Always discuss your requirements with the hair restoration specialists to find the best solution for your problem and within your budget.
DHI Medical Group has been a global leader offering hair loss solutions since 1970. It has the largest chain of hair restoration clinics worldwide, with 75+ clinics in 45 countries.
DHI can maintain the best global reputation by following the gold standards designed by the robust research advisory board, world-class facilities, and Europe and US patent equipment. DHI Total Care System and DHI No Touch Direct Technique make the overall hair restoration procedure more precise.
The team of DHI experts is highly skilled and trained to perform DHI techniques. They have helped several celebrities, business tycoons, sports personalities, and common people to find a permanent solution for their hair loss problems. If you also want to find the best hair loss solution for yourself, book your appointment with DHI Hair Specialist now.

The Benefits of Hair Transplant and Hair Weaving or Cosmetic Hair Patch or DHF
Now that you know about the basics of hair transplantation and cosmetic hair patches, it's time to determine the better one among them. Hair transplantation and cosmetic hair patch installation outplay each other in different aspects, and each process has distinctive benefits.
Let's unravel them:
The Benefits of Hair Transplantation
Here are a few fundamental benefits of hair transplantation:
Sustainable Results
You can subside the embarrassment of baldness using different methods, but none of them are equivalent to the effectiveness of hair transplantation. In addition to assured results, hair transplant offers sustainable results and is the best solution in the long term. Also, hair transplantation is more commendable, considering it's a natural solution.
One-time Treatment
Today's hectic and fast-paced lifestyles have left individuals with limited spare time. They don't have much time to seek hair treatments repeatedly. As a one-time treatment, hair transplantation doesn't occupy much time, which is why it's a better choice for busy individuals.
Easy Maintenance
Maintaining transplanted hair is not only super easy but pocket-friendly as well. You don't need to take preventive care of your hair after undergoing a hair transplant surgery. Following the post-operative instructions advised by the surgeon will suffice. Regardless of whether you use specific haircare products, you will retain decent hair after a hair transplant surgery. That's because you'll have natural hair.
Worth Every Penny
Though hair transplantation is a costlier process, it's worth spending on. You can reap the benefits of hair transplantation for a prolonged time as you spend on this process.
The Benefits of Hair Weaving or Cosmetic Hair Patch
Here are a few fundamental benefits of cosmetic hair patches:
Side-Effect-Free
No risks are involved with cosmetic hair patch installation, so many individuals opt for this one. People often don't prefer undergoing surgical procedures, and installing cosmetic hair patches is the best alternative to hair transplantation.
Unfortunately, hundreds of people who have transplanted hair reported facing moderate post-surgical side effects. This has been noticed particularly in patients suffering from diabetes and hypertension. No side effects would be prevalent as you use cosmetic hair patches, which is a great reason to opt for this process.
Cost-Efficient
Cost efficiency is the most crucial reason people opt for cosmetic hair patches. Even the best-quality hair patches last 6-10 months if maintained properly. The price of hair patches is affordable compared to their longevity. If you have an upcoming event to attend and want to cover your bald areas, cosmetic hair patches are the most economical option.
No Additional Precautions
As you choose to use cosmetic hair patches, you don't need additional precautions at all. You can attain a fashionable look without non-invasive procedures with them. That's a solid reason to use them.
Conclusion
Just like everyone, you must have the wish to look good and that can't happen without decent hair. As you see, both hair transplantation and cosmetic hair patch installation offer decent values. Which one you would choose among these depends on your requirement and utility. So, try your preferred solution based on your requirement.
Written and Reviewed By Dr. Kuntal Deb Barma