Dhruv Barman, Indian Basket Ball Player – Journey with DHI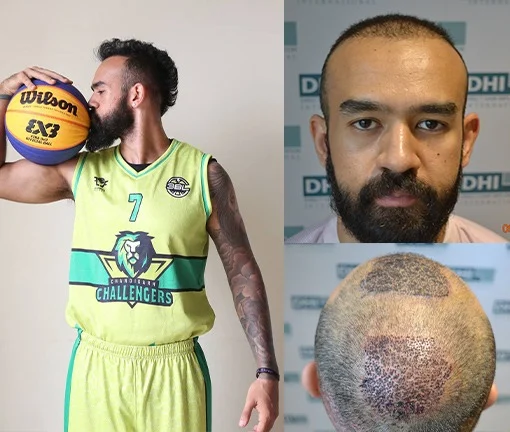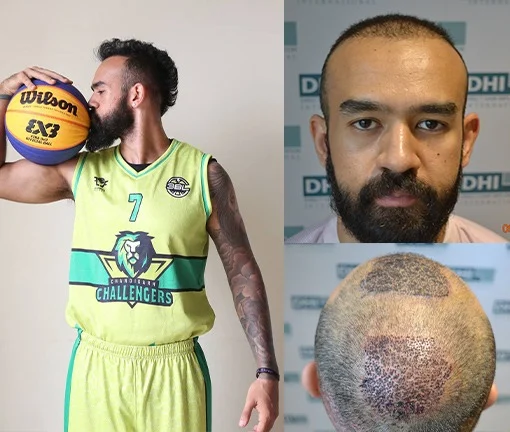 An excellent result is how Dhruv describes his new look after his hair transplant session, and we agree! Dhruv is a charismatic Indian basketball team player who is now 27 years of age. At DHI, we have loved watching his exciting hair restoration journey and the fun he had with it.
'At this stage, I'm feeling super excited, after my initial consultation with the DHI team and after my photos were taken,'' Dhruv says
More and more men in their thirties are turning to (DHI-Direct Hair Implantation) for a permanent solution to hair loss. From the DHI hair transplant technique, anyone can achieve life-changing, 100% natural results. Check out Dhruv's hair transplant before and after photos and his videos. He feels that DHI has taken outstanding care of him and that he is in good hands.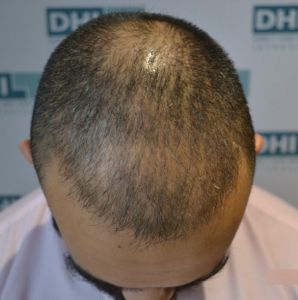 Day 1. Booked in my hair transplant @dhidelhiclinic!
Super excited now! It's a fantastic feeling to know that in 6-12 months, my life & my head will be completely different. The DHI team has been so good thus far, from the consultation to the extensive information about what will happen and the surgeon who will do my procedure.
Halfway on Day 1, the doctor has extracted around 2406 hairs. He will implant them all & repeat the process tomorrow.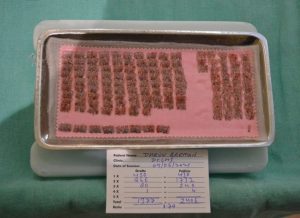 A picture from a surgery day, these are hair grafts organized into rows depending on how many hairs were in the follicle—kind of mind-blowing.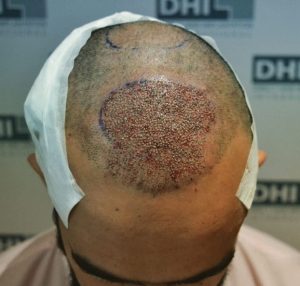 End of day 2 – Huge day today, the team was terrific, and 2136 hair was implanted; I feel tired but pretty much a pain-free day. Super happy and looking forward.
Day 2 Post hair transplant photos
Day 3 – My donor area, hard to believe that I had two sessions on my head only 2-3 days ago. The hairs left have gradually started to grow back and cover up my secrets.
'Dhruv says 3 days after the session.
Day 3 'Post after my full head wash, looking and feeling great.'
Day 4: Post hair wash, I feel amazing again. Every day is a significant improvement.
Day 5 brought more satisfaction. Much clearer results today. A good amount of healing on the scalp too.
Stay tuned for more.
Day 7: It doesn't even feel like I went through a hair transplant. Feeling great!
Why Dhruv chose DHI hair transplant?
Dhruv was looking for a permanent solution for his hair loss. However, after an initial diagnosis consultation, Dhruv decided to go ahead with his DHI life-changing procedure. Now, in his twenties, Dhruv enjoys having a full head of hair to style it any way he likes.
Dhruv knew he could trust DHI. He knew he was in good hands with the highest safety standards and 100% natural results guaranteed.
DHI is the leading hair transplant group of clinics in India, offering solutions for every stage of hair loss. So whether you're looking for hair care or hair loss prevention, or correcting hair loss through DHI hair restoration, DHI Clinics have solutions for every stage of baldness, including everyday hairline products and a laser cap for hair loss treatment.
DHI Session performed by doctors only
Many people don't realize that doctors do not do most hair transplant procedures. Doctors are the brand of many clinics globally, but they don't do the job. DHI International is the only medical group with a policy that all procedures, from start to finish, are done by certified doctors, not technicians. First, every single hair follicle is taken out from the back of the head by the doctor. Then every extracted hair is implanted back to the hair loss area by the same doctor. This way, DHI patients are in the best and safest hands for this life-changing procedure.
Direct hair Implantation technique
Every hair transplant procedure, regardless of technique, yields permanent results. Good or bad results. DHI Technique gives our surgeons complete control over the placement of the hair follicles in terms of angle, direction, and depth. This way, new hair can follow the natural course of growth, and implanted new hairs grow naturally for life.
DHI is the best hair transplant clinic in India
DHI can restore thinning areas and can redesign your hairline.
DHI technique means faster recovery
DHI provides a Diagnostic System for Alopecia (DSA) and the Unique DHI Total Care System
DHI Benefits
Minimal recovery
Minimal discomfort
No scalpels, no stitches, and no scarring
100% your own hair, not synthetic implants
Consistent follicle survival rates of over 95%
A highly skilled doctor completes the entire procedure
As a permanent result, your new hairs will continue to grow for life
The result is guaranteed to look 100% natural
At DHI, we understand that having a hair transplant is a life-changing decision. You want a natural look. Therefore, we guarantee natural results. No one will be able to detect you've had a hair transplant unless you tell them so.
DHI: The best hair transplant clinic
Immediately after your DHI hair transplant, you will see the shape of your new hairline but not your final result. The follicles have been implanted into their new positions, but there is a process of recovery they need to go through before you can start accurately judging your final results. You may begin to notice some scabbing around the newly implanted hair follicles, but it will heal quickly over a few days. You may also see some minor swelling on the back of the head in the donor area. Swelling is only temporary and will be gone a few days post-procedure. Redness may be present in the graft implant site, and you may experience some tenderness for a couple of days.
Your surgeon will give you a complete list of aftercare advice and when you can wash your hair post-procedure. We recommend that you follow the surgeon's recommendations, and then both the transplanted and donor areas will settle down within a few days.
Many patients return to work 1-2 days after the procedure, but many prefer to take a couple of days.
Book Your Consultation with DHI's Hair Specialist!