Patient Feedback on His Hair Transplant Procedure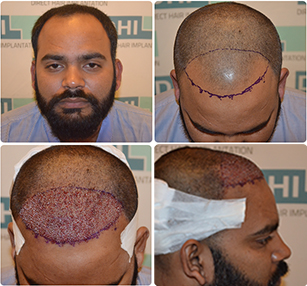 Patient feedback – Pranjal Saxena speaks about his hair transplant procedure. Watch the video to know more.
Hair loss, thinning, receding hairline and bald patches are quite common. Men and women face these concerns at some point in their lives. While some go on with their usual way, some contemplate opting for hair transplants. However, the hefty price tag, the safety concerns and other concerns may pose challenges. Looking at real-time videos and gaining second-hand experiences through other customers can help you and your loved ones make the right choice with DHI. At DHI, hair transplants are administered only by expert doctors; the procedures are natural, safe, painless and have maximum viability.
DHI Medical Group is the global leader in the Hair Transplantation Industry. It is the only medical group in the world that has created its unique hair restoration technique, which is used worldwide as the most advanced, effective, and painless method i.e., the DHI – Direct Method of Hair Transplant. This technique has been awarded both US and EU patents
Click here to Book your consultation with our expert doctors.