Who are the Best Hair Transplantation Surgeons in Hyderabad?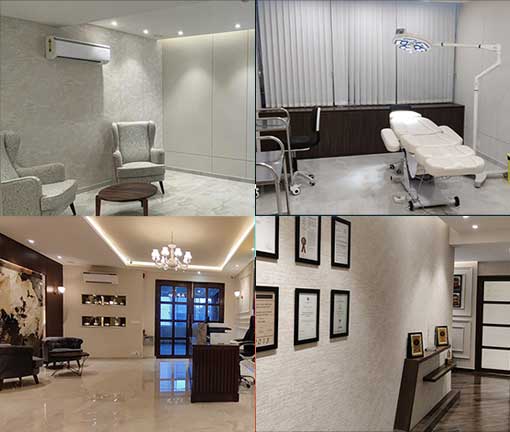 Hair Transplantation Surgery in Hyderabad is the most reliable and permanent method for solving hair loss problems among men and women. Hair transplant treatment can give unparalleled permanent and natural results and help people to regain their confidence and smile. In the last decades, the hair transplant procedure has become risk-free and gives permanent hair loss solutions to everyone based on hair health. The latest and most advanced techniques like DHI – Direct Hair Implantation innovated technology in the hair transplantation industry gives natural, permanent, and maximum density results with the help of highly skilled trained, and certified surgeons. The combination of surgeons and advanced techniques confirms, how successful your hair transplantation procedure and results will be. If unskilled or poorly trained surgeons perform the surgery, the results can never be satisfactory.
This blog will help you choose the best surgeon and technique for hair transplant in Hyderabad.
Hair loss is not a small thing to be taken lightly as it defines your appearance and confidence in life. Similarly, a hair transplantation procedure is not a child's or technician's play, and it has to be performed at the best clinic and by a highly trained surgeon in Hyderabad.
Criteria for selecting the best hair transplant surgeon in Hyderabad:
1. Experience and Expertise of the Surgeon: Skills of the hair transplant surgeon plays a major role in defining the results. Therefore, you must select a well-qualified medical surgeon who has experience in handling this transplantation procedure. He must have proper knowledge of all hair restoration techniques and should be updated with the latest technologies and advanced procedures, such as DHITM – Direct Hair Implantation technique and hair transplant treatments.
2. Consultation and Proper Treatment Planning: A hair transplant is a life-changing surgery that requires time and patience. While selecting the best surgeon for hair transplant in Hyderabad, ensure that your surgeon is offering consultation before the surgery. Also, the consultation should be accompanied by a scalp diagnosis. It will help surgeons to design a personalized plan for every candidate and decide the number of grafts to be transplanted before moving forward.
At DHI Hyderabad hair restoration and transplant clinic, every hair transplant is accompanied by consultation and thorough diagnosis. DHI surgeons design unique surgery plans for every person who undergoes a hair transplant, which helps them deliver 100% satisfactory results. Additionally, you can ask any kind of transplant-related questions to DHI surgeons and clear out all your doubts during the consultation phase, and then decide whether you want to move forward with the transplant or not.
3. Hair Transplantation Technique: Hair Transplantation treatment is performed using three major techniques, i.e., FUT (Follicular Unit Restoration), FUE (Follicular Unit Extraction), and DHI (Direct Hair Implantation) technique. All three have different characteristics and requirements. The DHITM Direct Hair Implantation technique is the most advanced and latest technique that involves no pain, scars, no downtime, or side effects and delivers maximum density.
At DHI Hyderabad hair transplant clinic, the DHITM technique is used during hair transplants as it offers 100% natural and permanent results seamlessly. The only DHI surgeons are certified and trained to perform this technique properly and can guide you throughout your hair transplant journey.
4. Safety Protocols: As hair transplantation is a surgical procedure, you can't take any kind of risk with it. Therefore, always check the safety protocols followed by the surgeons and at the clinics. At DHI Hyderabad hair transplant clinic, the surgeons use single-use, high-precision, and patented instruments. The patient has to get a few medical tests done before the hair transplant surgery, which helps DHI doctors to decide whether the patient is suitable to undergo surgery or not, and this point is also written in DHI safety protocols.
Additionally, the best comprehensive risk management, emergency, and strict follicles care protocols are used by DHI surgeons. During the current situation, the DHI Hyderabad hair transplant clinic follows all the hygiene, safety protocols, and government guidelines to ensure that you stay safe and DHI team delivers satisfactory results.
5. Clinic Facilities: The clinic's infrastructure plays a major role in the success rate of hair transplant surgery. So, whenever selecting the surgeon for hair restoration or transplant in Hyderabad, consider where they perform the surgery. Here, always focus on how equipped the clinic is, what kind of technologies it uses, what pre-and post-surgery care facilities are, and the overall infrastructure of the clinic, what equipment and standards are followed during the surgery.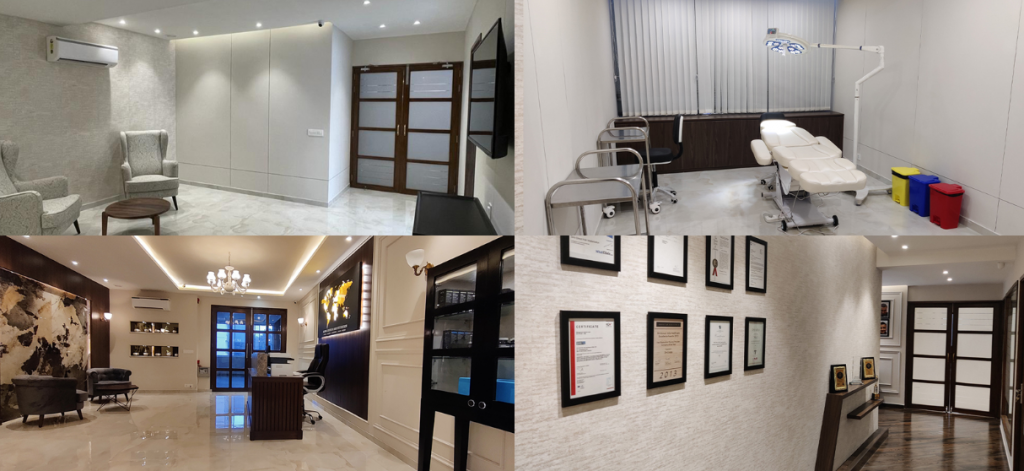 Always check the before and after Result images on the clinic website to know what to expect from them.
At DHI Clinics, we get about 37% of repair cases. People who got their hair transplant done from any unknown and cheap clinic. People who haven't done any research about the best hair transplant surgeons and clinics in Hyderabad generally don't get satisfactory results and have to undergo surgery again. As a hair transplant is a surgical procedure that can affect how you look, you can't take a risk. Hence, never get attracted towards low-cost clinics and always choose the best clinic for hair transplant, which has skilled and qualified surgeons & staff, like DHI Hyderabad.
Best Hair Transplantation Surgeons in Hyderabad at DHI Clinics:
DHI India has created award-winning hair restoration technology, i.e., Direct Hair Implantation – DHITM. It is the most advanced and latest treatment that is designed while keeping FUE and FUT drawbacks in mind. It involves no pain, no scars, and no downtime. During this procedure, the hairs are extracted from the donor site using patented extractors and implanted in the recipient site with single-use patented DHI implanters. The surgeons at DHI International Medical Group complete the hair Transplant procedure in Hyderabad within 4 to 7 hours depending on the implanted area.
DHI has a team of the best hair transplant surgeons in Hyderabad. The surgeons are certified by London Hair Restoration Academy and trained under DHI Total Care System to perform the Hair Transplantation treatment that offers natural, reliable, and permanent results. They are skilled in using technologically advanced equipment and tools, i.e., titanium-quoted single-use patented implanters and the latest techniques during hair transplantation, which gives them 100% control over angle, depth, and direction.
At DHI clinics, hair transplant surgeons are in charge of the entire hair transplantation procedure, unlike other hair transplantation clinics where technicians do the transplant procedure. From start to end, the person is under the surveillance of DHI surgeons, and no assistant is involved in it.
At DHI Hyderabad, the surgeons are well-qualified and have years of experience. Depending on the consultation and diagnosis results, they customize the hair restoration treatment for every candidate. Also, they provide state-of-the-art care throughout the process. The graft survival rate at DHI is more than 90%, which is much higher than the industry standard of 50%. And for this, the credit goes to DHI surgeons and the global protocols followed throughout the transplant procedure.
To date, DHI Medical Global has fulfilled the hair transplant needs of over 300,000 people globally, including many big celebrities, businessmen, and sports personalities. With the best infrastructure, facilities, and surgeons, DHI has delivered 100% satisfactory results to every client. Contact us now and book a consultation with a DHI hair expert, the best hair transplantation surgeon in Hyderabad, to discuss the hair transplantation procedure.