Academy Masters Meeting as presented on Greek media
DHI's Academy Master Meeting was presented on Greek media such as Newsbeast.gr, one of the best informative websites in Greece. Here is the article, translated in English:
The 2016 Academy Master's Meeting, a longstanding world medical conference for the diagnosis and treatment of scalp diseases, was completed with huge success and significant scientific and medical presentations. Held in Athens on the 28th and 29th of May, it was attended by leading scientists from around the world, including Dr. Francisco Jimenez from Spain and former president of the ISHRS Dr. Ron Shapiro from the United States, as well as top Greek University professors.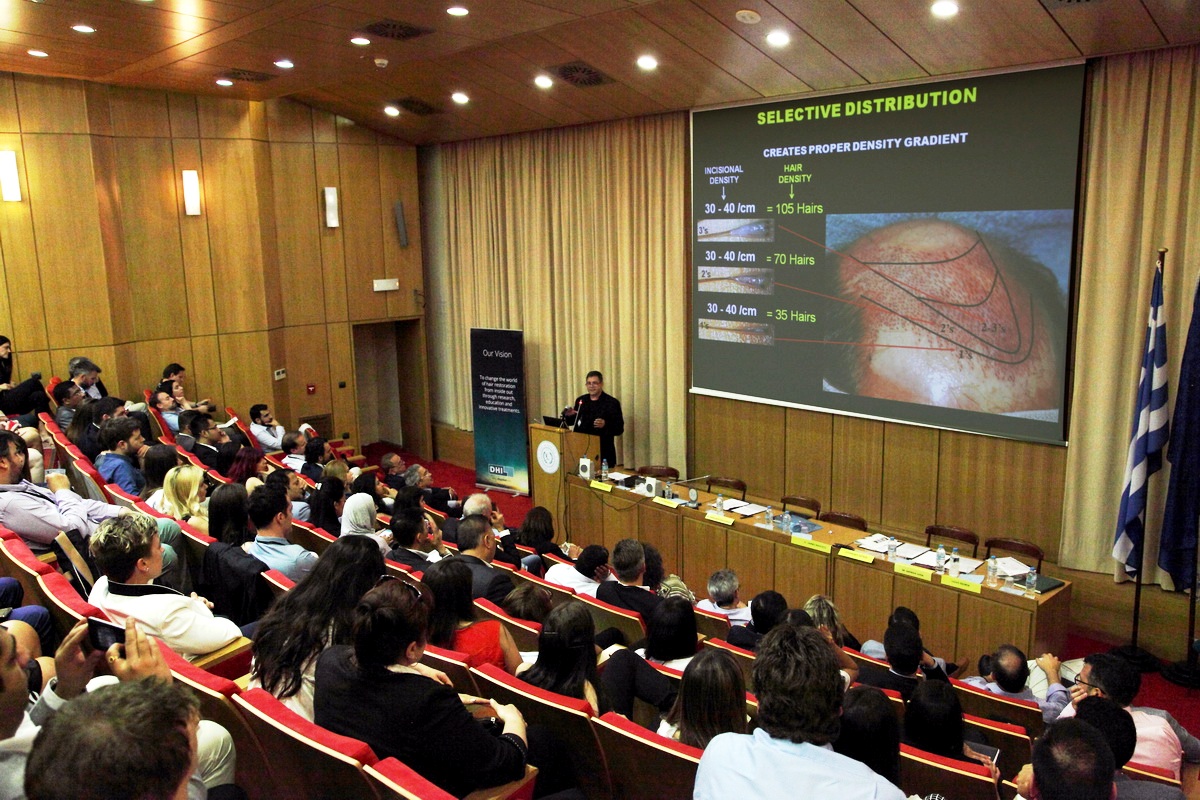 Two pioneering scientific researches which are revolutionizing the world of scalp treatments
In the auditorium of the University of Athens, attendees got a first look at DHI's new research project in collaboration with the Medical School of the National University of Athens, led by Professor Vassilis Gorgoulis.
The collaboration studies the characteristics of hair follicle stem cells in humans and their immunological microenvironment in order to clarify their role in the cycle of renewal of hair follicles, the regeneration of hair and, therefore, the effectiveness of follicular transplantation for the restoration of hair growth. Professor Gorgoulis' team stated that from the samples that have already been tested, they have completed the identification of regenerative cells for human hair follicles and have also advanced toward determining the overexpression of Cdc6, a key protein in hair health.
The research project, begun five months ago, is entitled «Study of human hair follicle stem cell niche: highlighting new perspectives on human hair restoration.» The final results are expected in the next few months.
More exciting research was presented during the Conference, including "Study of diseases of the hair and psychopathology. The psychological axis. Detection and intervention," a collaboration between DHI Global Medical Group and the Psychiatric Clinic of the University of Athens-Aiginition Hospital. The research is an in-depth study and exploration of psychiatric dimensions of hair diseases, in order to determine the interrelation of these conditions and any underlying psychopathology.
Referring to the pioneering research project, Professor of Psychiatry in the University of Athens, Charalambos Papageorgiou, stated that part of the study will be completed soon and scientists expect significant results.
The research is carried out with the voluntary participation of DHI patients by completing questionnaires. All data resulting from this study will contribute to the assessment of psychopathologies present in requests for hairs disease treatment, to identify general psychopathology problems (anxiety, depression) impacted by hairloss, to identify specific problems (for example, body dysmorphic diorders) and of course, to advise patients and propose suitable medical interventions.
The Academy Master's Meeting is organized annually by the London Hair Restoration Training Academy, a division of the DHI Global Medical Group.
Konstantinos Giotis, Founder and Chairman of DHI Global Medical Group:
"Today was the annual London Hair Restoration Academy Meeting at Athens University where we present our latest innovations. This meeting is about education and innovation. I am particularly excited and proud that DHI scientists from Greece and around the world presented amazing advancements both in the psychological aspects of hair loss and the  potential of stem cells. At the moment we are actually contributing to four public universities so that we can take the hair restoration field to an ever higher level, through education and through scientific research".  

Fransisco Jimenez MD, Dermatologist, FISHRS:
"I am very pleased to be here at the DHI Global Medical Group Meeting. In the past I have come several times. I want to specially congratulate Mr. Giotis for being able to fund and also collaborate with the University of Athens in new research projects because I think research is going to be what really changes the field of hair restoration in the next few years. This year I see more and more people that are coming to the Meeting. Seems that DHI is expanding all over the world and I am glad to share these presentations with other guests like Ron Shapiro from the US and other well known hair transplant surgeons". 

Ron Shapiro MD, FISHRS:
"One thing for sure is that DHI has always been out in front of new things. Truth is that DHI was one of the first clinics around the world to start doing the FUE. In fact, all the well known doctors who do FUE have started their carrier from DHI. I can name at least ten doctors who started from DHI. It is like a training ground for a lot of good doctors in hair restoration. They are doing it for years, there is so much experience and they still try to do things better. Ten years ago, FUE was like a baby and still today, it's not that easy for all doctors. DHI is the birth of it.  What I see here is people doing safe and appropriate things. I am also very curious to see the results of the new research projects".
DHI Global Medical Group Profile
DHI Global Medical Group was founded in 1970 in Palo Alto, California. 46 years later it has the largest and most experienced medical team in hair restoration, having helped more than 200,000 patients suffering from hair loss. Also it cooperates with at least 60 clinics around the world, applying innovative treatments under strict protocols of quality standards developed to ensure perfect results every time.
Loyal to the vision of changing the world of Hair Restoration, DHI Global Medical Group cooperates with public universities throughout Europe and Asia, contributing substantially to education and research by actively participates in developing innovative curricula and funding cutting edge research relating to the hair health and treatments of hair loss.
Moreover, DHI Global Medical Group, has established the "London Hair Restoration Training Academy," the one and only academy in the world that offers a complete and proper training for doctors in hair loss treatment and rehabilitation of disorders of the scalp.
From the founding day to date, the DHI Global Medical Group remains committed to its mission to contribute to the health and well-being of all patients suffering from alopecia and scalp disorders, following seven values: Education, Innovation, Reliability, Transparency, Efficiency, Care, Faith in Science.
To see the article in the original Greek version, please CLICK HERE.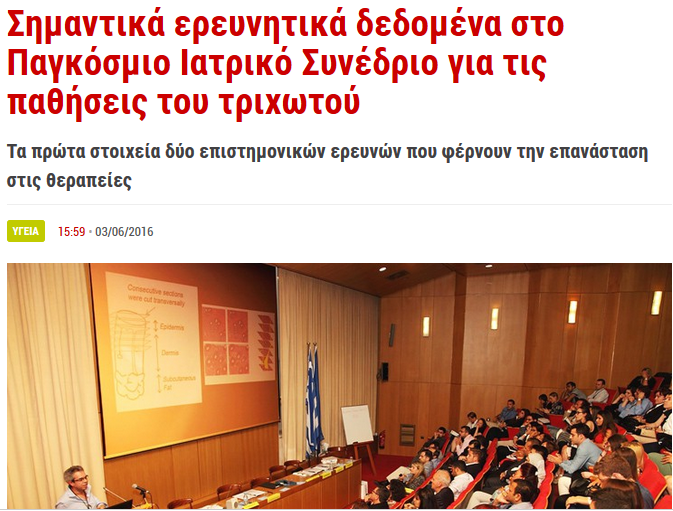 Click here to Book your consultation with our expert doctors.