Transformation journey of a DHI patient – Mr. Sandeep Sharma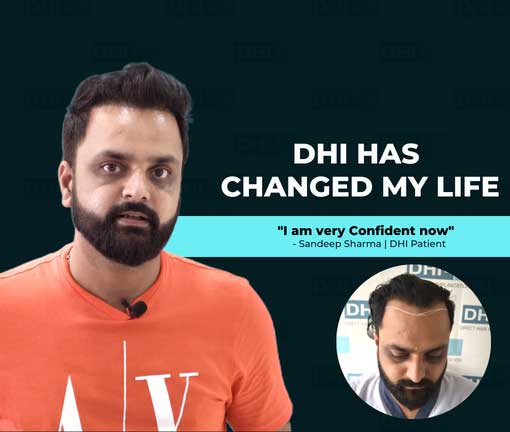 Hair loss in today's time has become a very common problem. Hair loss can be caused due to various factors, including diet, stress, illness, hormonal imbalance, and medications. In most cases, hair grows back after following a better lifestyle, but when hair stops growing due to any reason, the situation can become problematic. The Hair Transplant procedure can aid in such situations. DHI Medical Group has been a pioneer in the hair restoration and transplantation industry since 1970 and has helped over 300,000 people in achieving the desired look and changing their life.
One of the DHITM Patients, Mr. Sandeep Sharma, has shared his feedback after undergoing the Hair Transplant procedure at the DHI Kolkata hair transplant clinic.
Mr. Sandeep Sharma is from Kolkata, and he has been associated with DHI for the past 3 years. He revealed that previously in 2018-19, he was very shy and not so confident due to his hair loss. Soon, he decided to change his life in 2020. He surfed the internet about hair transplantation and tried to find out the best hair transplant clinics near him.
Hair Transplantation is a surgical method to solve hair loss-related problems permanently. In this procedure, surgeons extract healthy hair follicles from the donor area and implant them in the area which needs treatment. It is performed in the medical surrounding and under local anesthesia.
Mr. Sandeep Sharma selected the DHI Kolkata hair transplant clinic after a lot of research. He consulted the DHI Kolkata clinic team and decide to move forward with the DHI hair transplant surgery and he got a hair transplant session date 17th Nov 2020. During the consultation with DHI doctors, the patient undergoing the hair transplant surgery can ask any question related to his/her hair transplant surgery. The DHI doctor will assist the patient with everything and help them make the right decisions.
The whole DHI hair transplantation treatment is also accompanied by the Unique Diagnostic System for Alopecia (UDSA). It is a combination of some important tests that helps DHI doctors to know the medical condition of the patient and the potential reason for hair loss. Based on the patient's expected results and other findings, the number of hairs is decided for implantation.
At the DHI hair transplant clinic, the end-to-end procedure is performed by highly trained and DHI's certified surgeons and no assistant/nurse touch the patient's scalp. During the surgery, the hair follicles are extracted one by one from the donor area using a patent single-use titanium-coated tool with a 0.7mm diameter. Then the extracted hair follicles are preserved in the right environment and temperature to ensure the best results during the implantation process. In the placement phase, the extracted hair follicles are implanted directly in the bald area using patented implanters. DHI's patented implanters give the surgeon better control of depth, angle, and direction during the implantation phase. Also, the Total Care System protocols of DHI followed during the surgery ensure the delivery of adequate density depending on the ADT card.
The entire DHI hair transplant surgery was very seamless for Mr. Sandeep Sharma. He mentioned that there was no pain, and it caused no problems. He added that people generally think that while undergoing this surgery, they will face a lot of issues; but there is nothing like that. He was absolutely fine in a couple of days and was easily able to perform his daily routine.
As per him, there was not much hair on the front side of his scalp before connecting with DHI. The back side of the head was fine, but still, he had to think twice before deciding on a hairstyle. Whatever hairstyle he used to make; his baldness made it look unattractive. It ended up making him feel shy to meet others and he was very uncomfortable even while clicking pictures with his friends and family. But after connecting with DHI, the DHI doctors guaranteed him that, within a 6 to 12 months span, he would get good healthy hair growth. And the same happened, after a year, his hairline got corrected, and he started feeling good about himself. He is now very relaxed and positive about his looks. Now he confidently takes pictures of himself.
Mr. Sandeep Sharma is very happy with his looks. DHI has changed their life completely and given them the desired look with the help of DHI's hair transplant treatment. He wants to convey to other people that "if you are facing this kind of issue or hair loss problem at the moment, connect with the best DHI hair transplant clinics. I am sure they will help you; the way they did it for me."
In total, 4255 hair and 1776 grafts were implanted in Mr. Sharma's scalp during the DHI hair transplant procedure by the DHI hair transplant surgeon, following the 2:4 ratios.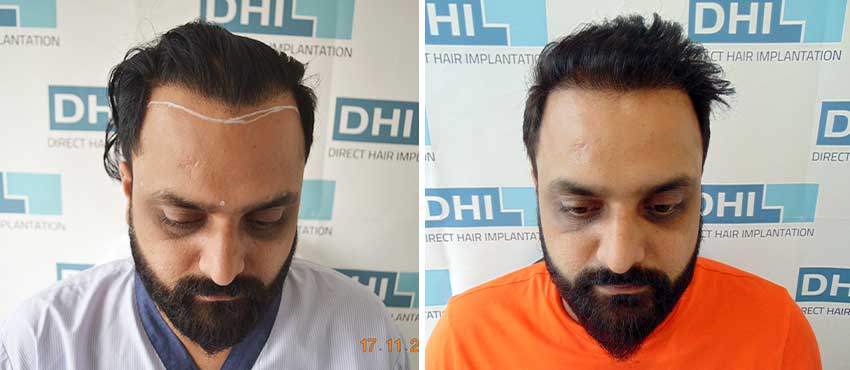 About DHI Medical Group:
DHI Medical Group is the global leader in the Hair Transplantation Industry. It is the only medical group in the world that has created its unique hair restoration technique, which is used worldwide as the most advanced, effective, and painless method i.e., the DHI – Direct Method of Hair Transplant. This technique has been awarded both US and EU patents.
Unlike other clinics, at DHI the entire hair transplant procedure is performed by surgeons who are trained at London Hair Restoration Academy. No assistants are allowed to touch the patients during the procedure. They have ultra-super specialization in the science and art of hair transplant. All the surgeons at DHI clinics are regularly assessed and certified to ensure that the procedure performed by them will deliver 100% natural results.
DHI Medical Group was founded by Palo Alto in California in 1970. For over 50 years, DHI group has dedicated itself to the goal of innovating the lives of people suffering from hair loss problems in the world by offering them the best and most permanent solutions. Today, you can find over 75 authorized DHI clinics across the world, and 16 clinics out of them are located in India.
For DHI clinics, the safety of the candidates and quality services are extremely important; therefore, they follow strict safety protocols accredited by UK CQC and ISO on every person, whether it's a film star, business tycoon, sports player, or a common man during every surgery. DHI maintains the full confidentiality of every person and never shares their data with anyone outside of DHI.
DHI guarantees a 90% graft survival rate, no downtime, maximum density, and a virtually painless procedure. The procedure followed for hair transplantation is simple and can be performed in a few hours. At DHI we will transform your looks/life and give your hair and confidence back. If you also desire to undergo a hair transplant and regain your lost confidence and smile like Mr. Sandeep Sharma, contact your nearest DHI hair transplant clinic and get the best treatment recommendations.