This Covid break is the best time to get your crowning glory back!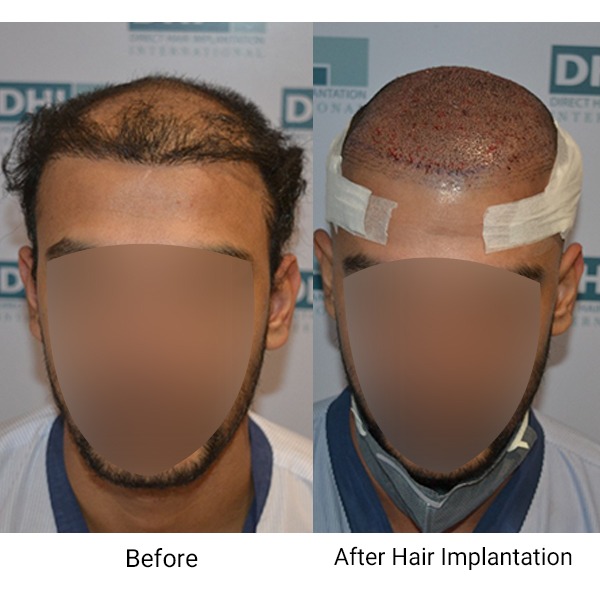 The demand for hair transplant is booming. We are seeing an unusual surge in demand during Covid times.
DHI is minimally invasive and has literally no downtime. The patients can return to work the very next day, though there is a little awkwardness about the post-transplant look for about a week or so, especially for patients with a busy social life.
These customers are taking advantage of the current compulsory social isolation in getting procedures done while at home.
32-year-old Rishabh Malhotra (name changed for privacy) had been planning to get a procedure done with us for the past two years but he was not able to take out that one week which he needed after the procedure.
In his own words, "I had always planned on getting my procedure done in the winters as I wanted to avoid sporting a shaved head during the summer vacations. I couldn't imagine walking around with a shaved head on the beaches of Bali. And winters were about weddings and festivals. I just could not find the right opportunity for my own hair. "
"During Covid times I am working from home and this is a great opportunity to finally finish my Project Hair." he says, while watching a movie as the doctor implanted hair on his scalp at DHI Delhi Clinic. "And the best part is I didn't even have to take a single day off from work", says Rishabh who had scheduled conference calls from the next morning.
There are hundreds of people like Rishabh who are reaching out to our clinics for doing procedures as they feel this is the best time for this procedure.
Is it safe?
One of the biggest questions clients have while planning a session during the pandemic is whether there is any risk of exposure or contracting the Covid -19. DHI has always been known to put patient safety first and the same is true of us now.
In April this year, DHI's London office drafted the Covid-19 safety protocols which had to be implemented globally across all of our 75 clinics, before any of them reopened for patients. All DHI clinics (Delhi, Gurgaon, Bangalore, Chennai, Chandigarh, Calicut or Kozhikode, Coimbatore, Guwahati, Jaipur, Kolkata, Hyderabad, Kochi) are certified by UK Care Quality Commission and ISO and the safety standards were drawn up to adhere to the protocols formulated by both bodies.
Among other things, all DHI employees are subject to multiple temperature checks a day and must wash hands half-hourly. Patients are allowed to visit by appointment only and the entire clinic is sanitized after every visit. Additionally, UV sterilization is done daily at the clinics to ensure hygiene and safety. Video consultations are also available for patients unwilling to visit the clinic.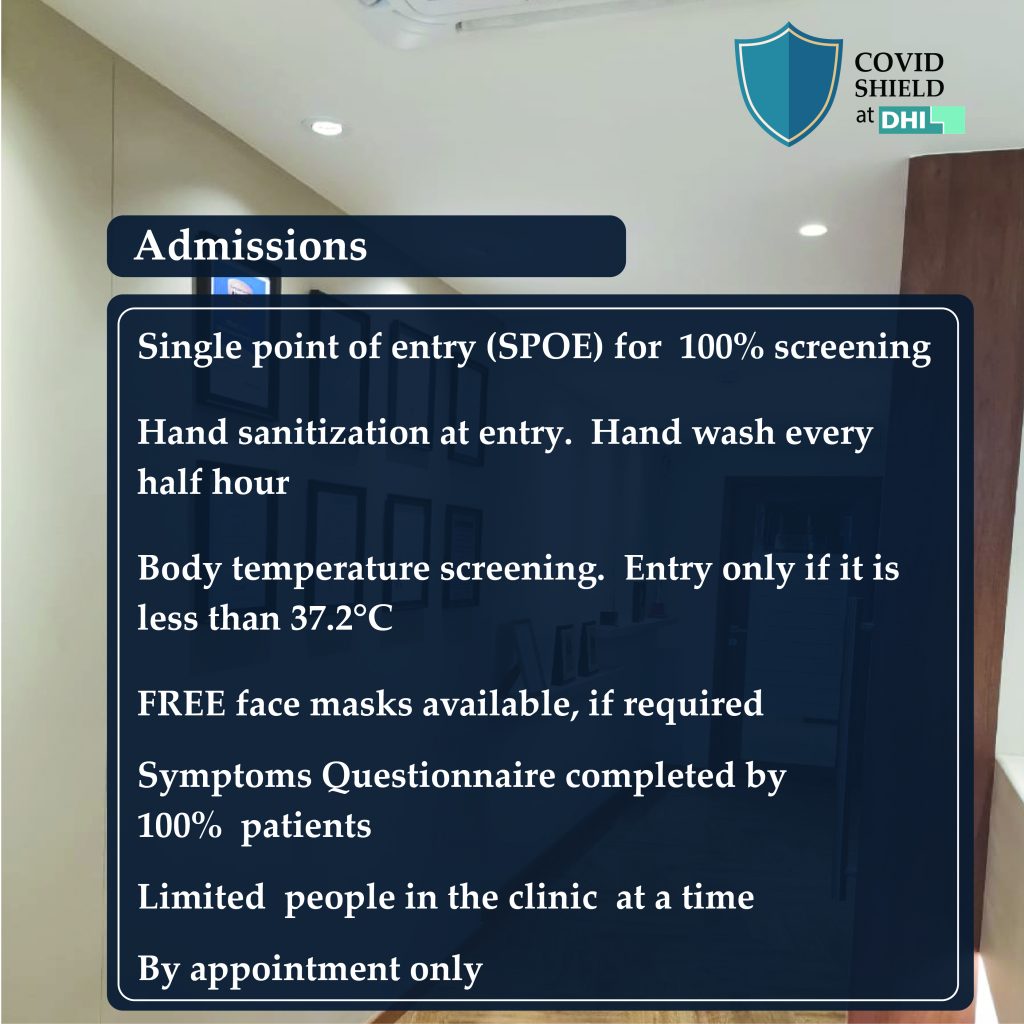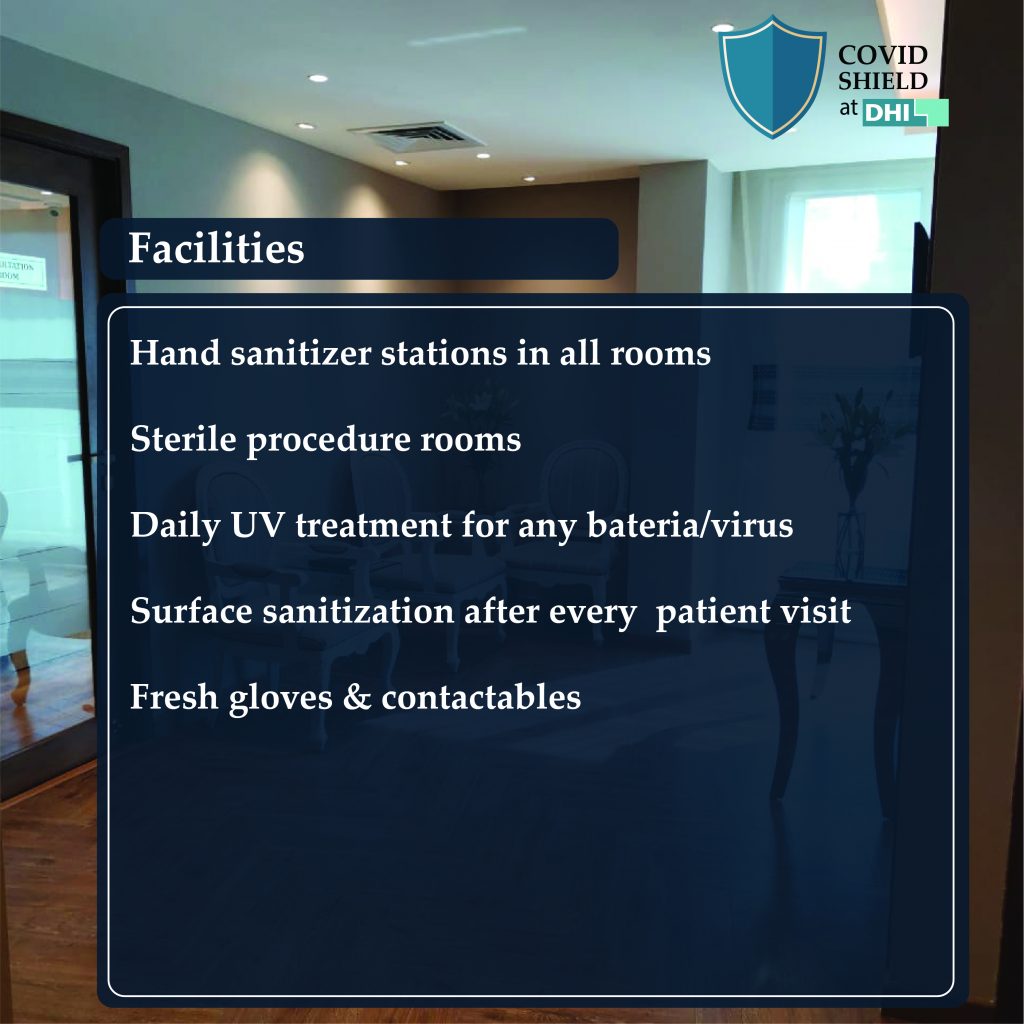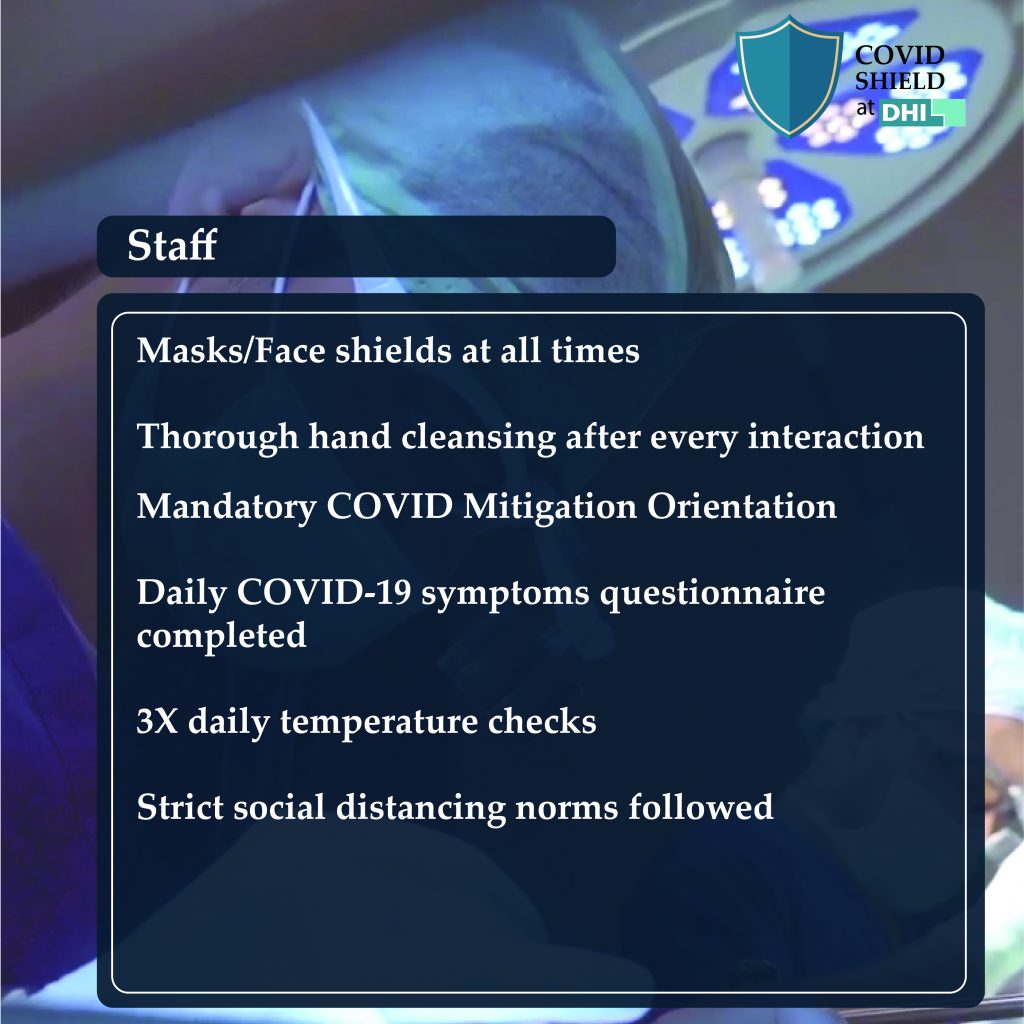 In the words of Dr Ajay Dubey, DHI's medical director, "We at DHI are following European safety standards which are much more stringent than those being followed by even the Covid facilities in India. Clients need to just focus on maintaining the sanctity of the safety bubble created between their home, their car and our clinic to curtail exposure to non-sterilized environments. DHI clinics are one of the most sterilized places you can find in your city today."
If you would like more information, don't hesitate to call us on 1800-103-9300 or visit www.dhiindia.com or book your consultation