Where do doctors go when they need a Hair Transplant? – The Story of Dr. Sachin Dhawan
Dr. Sachin Dhawan is a renowned dermatologist based in Gurgaon. When Dr Dhawan felt the need of a hair transplant, the only clinic he visited was the DHI clinic at B-5/15, Safdarjung Enclave, New Delhi.
Dr Dhawan was suffering from Androgenetic Alopecia (AGA) hair loss, which had progressed to level 3 on the Norwood Hamilton Scale. He had a receding hairline and deep recession in the temple areas. He wanted to achieve a natural look and coverage with maximum density.
His DHI procedure took place in the Delhi clinic of DHI on July 26, 2015, in which 3,647 hairs were implanted in total. The procedure was performed under local anesthesia and it was completely pain-free. The grafts were extracted with DHI's unique, fine and titanium coated instruments and implanted with DHI's unique Direct technique.
High ratio grafts (grafts with 3 or 4 hairs) were implanted at a suitable distance on the affected area to cover up visible bald spots. The procedure was then followed by the implantation of grafts with 2 or 1 hair. The natural appearance was achieved by following the angle and direction of existing hairs which varied from as acute as 10 degrees to maximum 30 degrees, using single-use DHI Implantation device. All this is done by following an artistically developed 'Design & Distribution' plan for each and every follicle.
The entire procedure was performed end to end by a DHI Certified Surgeon and it lasted about 6 hours.
The dressing was removed the next morning. The donor area healed in 3 days after the procedure, without any marks, though Dr. Dhawan resumed work from the very next day.
A week later, the scabs in the implanted area had falled and it looked fully natural. Dr Dhawan's hair is growing naturally—at a natural angle and high density.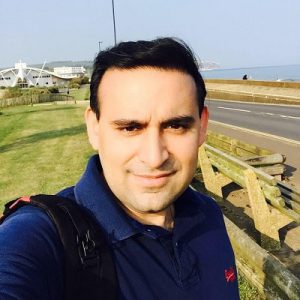 Restore not just hair but also your confidence. 49 years of experience. More than 250,000 satisfied clients across the world.
Click here to Book your consultation with our expert doctors.