Shihab Salim: "I'd Rather Look Stange Than Be Bald"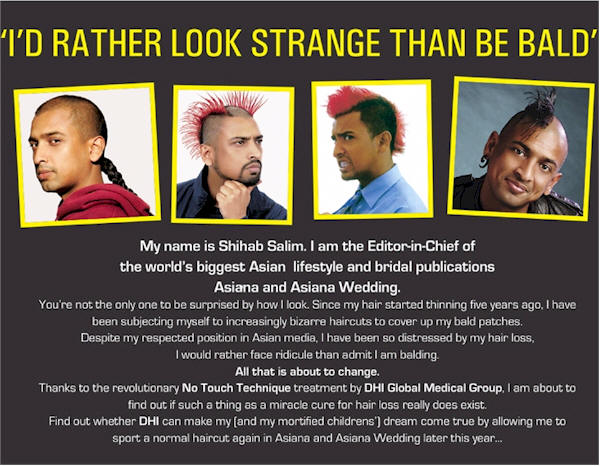 Shihab Salim, Editor-in-Chief, of the world's biggest Asian lifestyle and bridal publications "Asiana" and "Asiana Wedding" is also a hair restoration hair transplant patient of DHI.
Balding spots, patches and receding hairline don't only affect your aesthetic beauty but also your public persona and self confidence. The struggle is real and DHI is committed to helping you with the appropriate, personalised hair transplant solution be it for scalp repair, scalp micropigmentation, eyebrow, beard or hair transplants.
Choose how you wish your hair to look with DHI. Book a consultation now.
DHI Medical Group is the global leader in the Hair Transplantation Industry. It is the only medical group in the world that has created its unique hair restoration technique, which is used worldwide as the most advanced, effective, and painless method i.e., the DHI – Direct Method of Hair Transplant. This technique has been awarded both US and EU patents