Patient Feedback on His Hair Transplant Procedure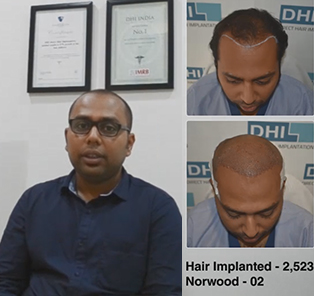 Patient feedback – Anirman Basu speaks about his hair transplant procedure performed at DHI Kolkata Clinic. Watch the video to know more.
No. of Hairs Implanted – 2523 | Norwood Scale – 2
Anirman has taken the route to reclaim his hair aesthetics? When are you planning to take control of yours? If you are worried about the hefty price tag, rest your worries. We at DHI have been striving to make cutting-edge hair restoration an accessible commodity to all. Rather think of it as an investment you will be making in yourself.

DHI's Direct Technique is the safest and most effective hair transplant technique available today. Every procedure at DHI is done end to end by highly qualified and trained doctors… No assistants touch the patients at DHI!
Click here to Book your consultation with our expert doctors.