Indian Hockey Players select DHI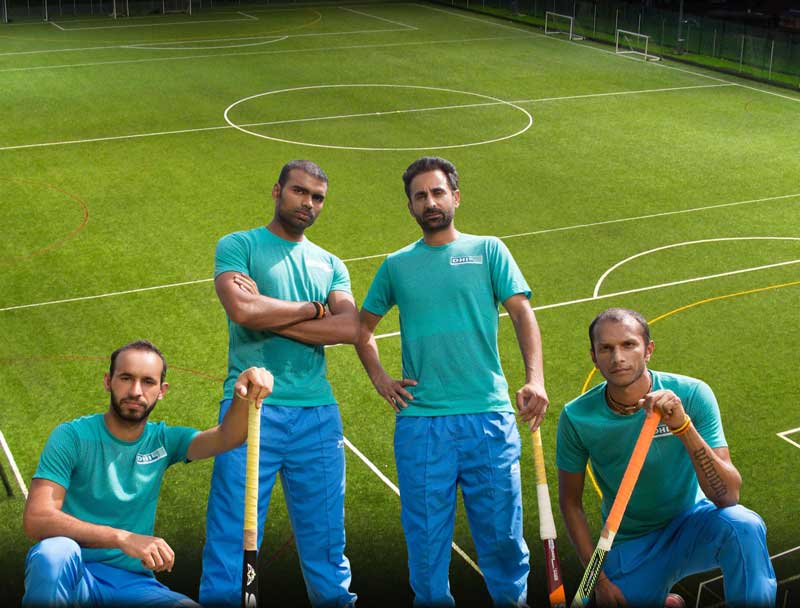 DHI gives Indian Hockey Players the self-confidence to perform, on & off the field
Srejeesh Ravindran, Ramandeep Singh, SV Sunil and Prabhjot Singh select DHI for hair restoration
Their choice isbased on DHI's scientific methodology& researchand medically qualified staff

India, New Delhi, June 30th 2015 – DHI, a hair restoration leader and pioneer, today said that it was the No. 1 choice for hair restoration of leading hockey players of the Indian National Team. DHI has helped restore hair for Srejeesh Ravindran, currently India's vice-captain and goal keeper, India's forward player Ramandeep Singh and Prabhjot Singh who is a field hockey forward and captain of Mumbai Challengers. Forward Player, SV Sunil has recently undergone the hair restoration treatment as well.
DHI has provided Srejeesh, Ramandeep and Prabhjot with a new look of dense hair by simply, delicately and naturally implanting their own hair in the bald or thinning areas that has resulted in the regrowth of their own hair. The result is therefore 100 per cent natural.
The DHI method of hair transplant is advanced, modern and an innovative technique performed under most hygienic conditions, using DHI's unique DHI Total Care System. Their instruments are unique and advanced ensuring zero scarring or damage to the donor area. DHI's Unique Diagnostic System for Alopecia or "UDSA" follows a dermatological examination, psychological aspects, precise mathematical count of donor and recipient area and computerized alopecia test. This results in a comprehensive lifetime treatment plan for hair loss problem.
"Our national hockey players are winners and we want to ensure they look and feel as good as they perform. A sports star today needs to be not only on top of his game but also needs to walk the star talk. When you look good, you feel the power to take on the world", said Ajay Bansal, CEO of DHI India.
"Being an athlete is not easy on the body, especially hair. Sweat, stress and injuries take their toll on the hair too. But thanks to DHI, I now have my hair back and I'm very pleased about the natural results that DHI has given me. DHI is known for its international standards, professionalism, and customer care and I can say this from my first hand experience now," said Srejeesh Ravindran.
"I selected DHI because of its latest and most advanced techniques. The procedure was painless and I was completely at ease. I'm very happy with the 100% natural result. What I was promised is what I have received. The DHI experience has been truly amazing!" said Ramandeep Singh.
Prabhjot said that having a transplant procedure is a very simple process and is proud of his new head of hair. Prabhjot is extremely pleased with the natural hair results he has received.
Ajay Bansal said, "It's wonderful to have our national players come forward and speak about their hair loss and having hair restoration procedures done. Just like it did for Srejeesh, Ramandeep and Prabhjot, DHI empowers people to make a choice – a receding hairline or baldness is not an inevitable problem. Now with DHI you can do something to change it".
The main cause for 95% men experiencing a thinning scalp is called Androgentic Alopecia – more commonly referred to as Male Pattern Baldness. In Male Pattern Baldness, the first area patients typically see hair loss in is the crown, followed by thinning around the hairline and temples, before the mid-anterior scalp is affected. Other causes of hair loss in men include stress, disease, and physical reactions to medication, though each case depends on the individual. Hair loss is always about much more than a receding hair line. It can deeply affect an individual's confidence and self esteem.
ABOUT DHI INDIA
DHI is India's leading hair implantation clinic and a hair restoration leader. It is spread across the world—having 60 affiliated locations, which have restored hair-fall and treated related problems for over 200,000 clients.
DHI was founded by KP Giotis in 1970 and has been dedicated solely to the research, diagnosis and treatment of hair and scalp disorders. Since 45 years, DHI technique offers best and natural treatment to the hair-loss sufferers across the globe. It is a painless procedure that helps to restore the problem of baldness with consistent results.KP Giotis was inspired to create the Direct Hair Implantation (DHI) procedure after suffering from hair loss himself. This procedure takes sufferers own hair follicles and places them on the scalp within six seconds, ensuring natural results.
DHI being a leader in the field of medicine has been focusing and investing in R&D since it has been established. This ensures each DHI clinic complies with highest standards to cure hair loss. Since that last 45 years, DHI has expanded its business and simultaneously devoted itself to develop new and innovative techniques to offer proprietary medical tools for Hair Restoration. DHI, as part of its clientele, has many renowned doctors, newscasters and celebrities.
For more information visit, www.dhiindia.com
Follow us on FB: https://www.facebook.com/DHIIndia
Media contact:
Abhilasha Padhy; abhi@80-db.com; Mob: +91 9811994307
Click here to Book your consultation with our expert doctors