How Many Hair do I need?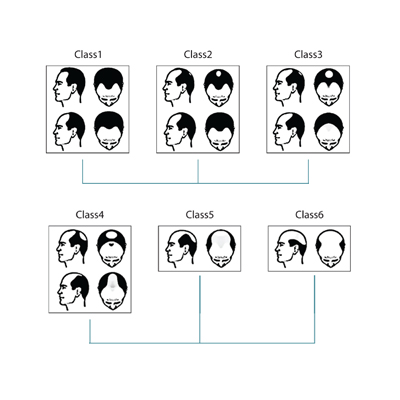 The first step to finding out the correct number of hair that you, as an individual, will need for a hair transplant with the correct density and 100% natural results, is to have a consultation with a hair loss expert. During your consultation, your scalp and hair will be assessed. Those with thicker hair may require fewer grafts to achieve the desired result. The extent of your hair loss will be measured, your medical history will be considered and a proper diagnosis for your hair loss will be made. To classify the extent of hair loss, the Norwood Scale (image below) is used.

Some of the factors that must be considered before designing a natural hairline or crown are:
Extent of the thinning
Age of the patient
Medication the patient is taking
Quality of the donor hair
Further genetic thinning
Density required to achieve a natural look
Patient expectations.
With all of this information, a correct calculation for the number of hair needed to achieve your desired result will be done. BUT, this number will be different for every clinic you visit. WHY? Because survival rates vary greatly between clinics and those with poor survival rates will increase the number of grafts needed to make up for it. Would you want to pay for 5000+ grafts when 50% of them don't survive?
The DHI Difference
The DHI Medical Group has the largest and most experienced team in hair restoration, 49 years in the industry and 75 clinics globally. The DHI expertise, processes and techniques achieve industry-leading survival rates.
DHI consistently achieve over 95% survival rate vs industry rates that fluctuate between 50-90%. This high survival rate leads to fewer grafts being needed. The DHI high survival rate is achieved by:
Minimum handing of follicles
Patented technique – the most delicate hair transplant method, referred to as microsurgery
The use of Bio tissue preservation – DHI are one of only a few hair transplant clinics in the world that use Bio Tissue preservation in our hair transplant, which sustains the survival rate of the hair up to 90%.
All procedures completed from start to finish by a DHI Certified Doctor, not technicians.
Click here to Book your consultation with our expert doctors.