DHI vs FUE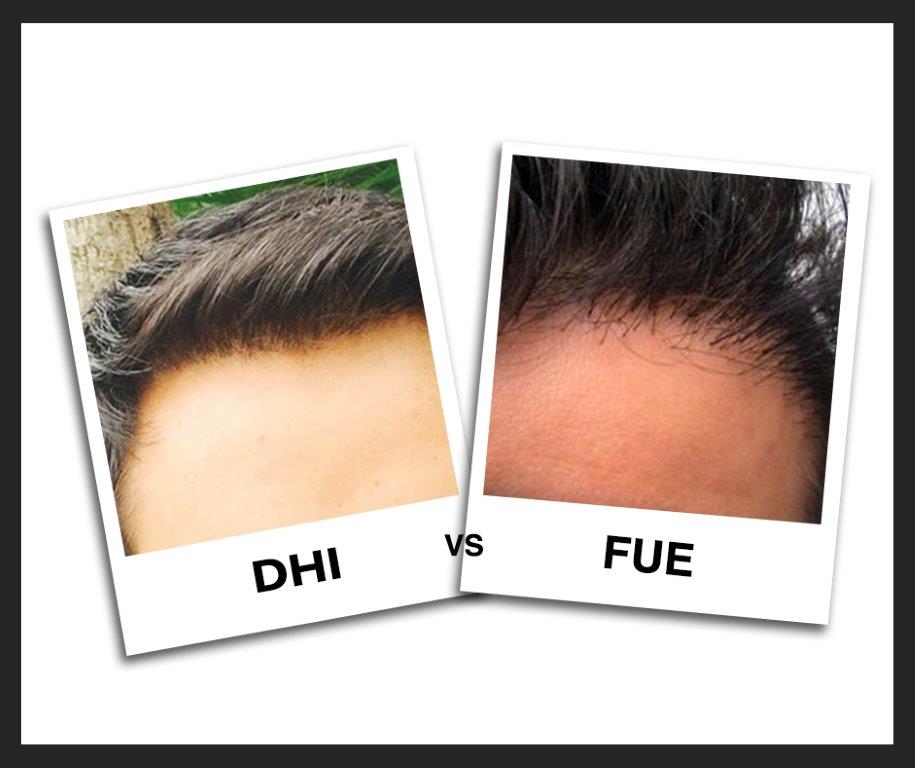 Making the right decision while choosing the right clinic and technique for your hair transplant is very important. The aim is to get a natural-looking result and to protect the donor area from trauma. However, most people are lured into sub-standard techniques based on cost and the number of follicles implanted. The video given below explains the differences between DHI and other methods in detail.
There are three techniques – FUT (Follicular Unit Transplant) and FUE (Follicular Unit Extraction), and DHI (Direct Hair Implantation).
FUT is a highly invasive surgical process where a strip of skin is cut and removed from the back of the head, and the ends of the resulting scalp are stretched and stitched together. Hair is harvested from the removed scalp and implanted in the recipient area. This technique leaves a permanent scar on the back of the head and is very painful for the patient. The recovery period is very high.
FUE was pioneered by the DHI Group in 2002, in which the follicles were extracted one-by-one from the back of the head instead of extracting part of the scalp. This reduced the pain for the patient and the recovery period significantly. However, most clinics adopted the extraction of follicles using motorized punches, which causes high trauma to the donor area and reduces the survivability of the grafts.
While FUE reduced the patient's discomfort during extraction, there was no difference in the implantation process. In FUT and FUE, the first slits are made in the recipient area using a slit maker. The individual grafts are pushed into these slits with the help of forceps. The implantation results are still sub-par as graft survival was only 50%-60%, and the angle and direction of the resultant hair are uncontrolled, giving a very unnatural result.
DHI is a refined version of FUE with many radical changes to ensure not only the reduction of trauma to the patient and his donor area but also to provide them with a natural-looking result. This includes single-step implantation using a DHI Implanter, only manual extraction using titanium-tip single-use instruments, and strict protocols related to all aspects of a hair transplant.
DHI has reformed each aspect of the hair transplant procedure to provide the best possible solution. DHI adopted titanium-tip single-use punches of size 0.7mm to 1.0mm. The extraction is done manually to ensure the most minor damage to the donor area. Only a medical Doctor performs the complete procedure end-to-end. Strict protocols are followed while storing the grafts when they are out of the body. DHI patients can count the same grafts/follicles after extraction to ensure transparency of the result. With the exclusive patented tool "The DHI Implanter," each hair is implanted one by one with the right direction, depth, and angle according to the recipient area allowing 100% natural results.
Click here to Book your consultation with our expert doctors.