DHI introduces MPG methodology in India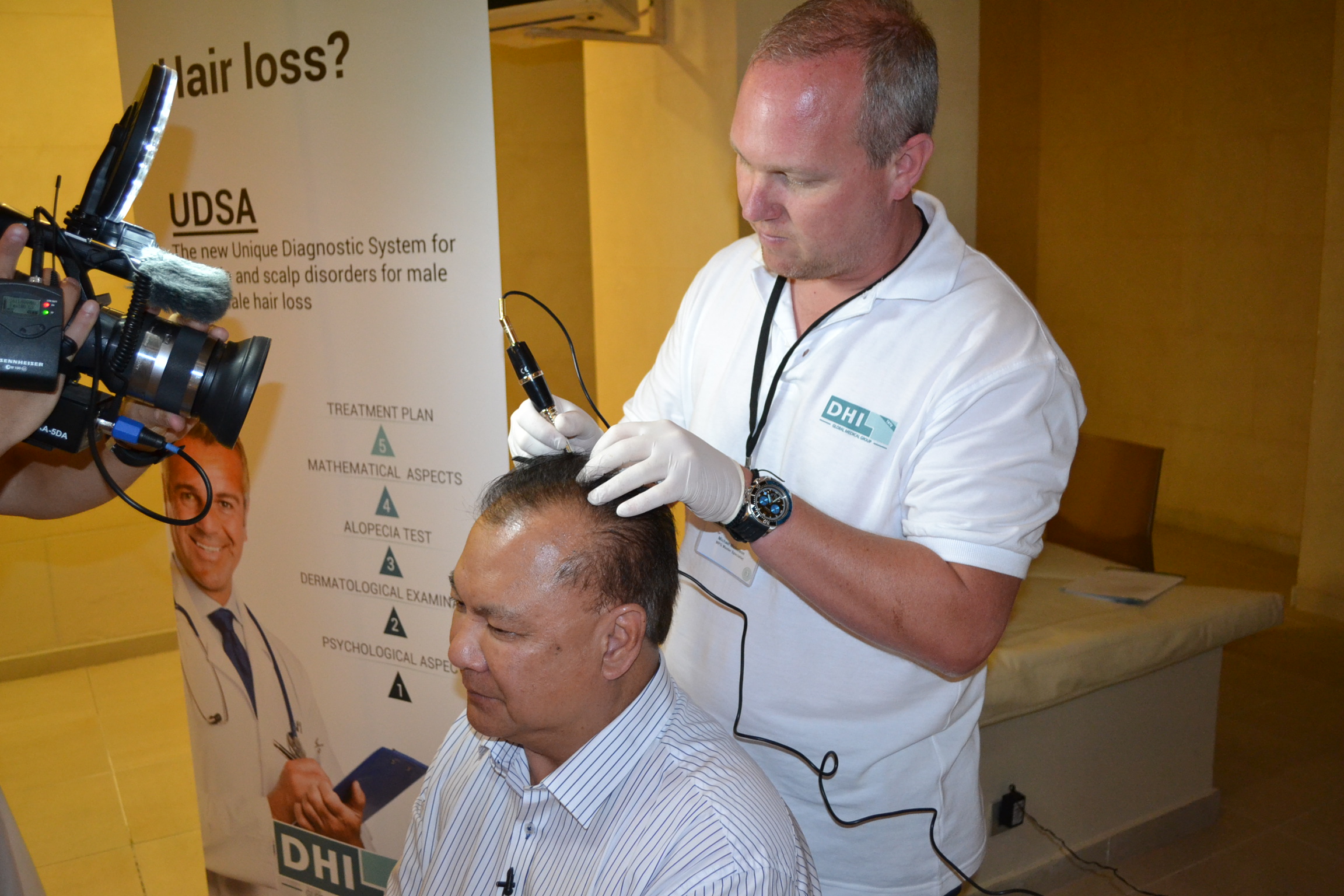 Revolutionary new technology by DHI Medical Group, now let's you create a dense scalp of hair without surgery
DHI Medical Group, the International leader & pioneer in hair restoration introduces the MPG (Direct Scalp Micro-pigmentation) Methodology
DHI's MPG methodology is first of its kind in India
India, New Delhi, XXX May 2015 – DHI Medical Group, dedicated to research, diagnosis, treatment and education of hair and scalp disorders for 45 years (since 1970), has announced the introduction of a new hair restoration methodology called Direct Scalp Micro-pigmentation Methodology (MPG). MPG is a method in which little dots are ingrained on the scalp, creating a camouflage that the scalp is densely populated with hair follicles. This methodology is both new and innovative and is available only with DHI.
Direct MPG is used for a variety of scalp conditions in both men and women, including genetic male pattern baldness (MPB),to camouflage the damage done by strip scars ,scarring alopecia and scarring from neurosurgical procedures or burns For women, MPG is recommended in the early stages of diffuse or androgenic alopecia. It can be used to also improve their eyebrows.
"Direct MPG is an alternative styling option for men and women who do not want to opt for hair transplant surgery. This technique creates dots on the hair that look like baby follicles. It adds a fullness to the look by reducing the contrast between the scalp and hair color", said Mr. Ajay Bansal, CEO, DHI India. The introduction of this technique is another feather in DHI's cap of being at the forefront of innovation and science in hair restoration. It has been our endeavor to bring to consumers the latest in hair restoration techniques that are minimally invasive, safe and of international quality", added Ajay.
The hair restoration industry is growing at a rapid pace in India. According to the figures available, the estimated market potential of the hair restoration industry is Rs 30,000 crores. However, this growing industry in India has been dominated by individual doctors who perform these procedures using outdated technologies and without standard protocols.
ABOUT DHI INDIA
DHI is a global leader in leading hair implantation clinic and a hair restoration leader. It is spread across the world—having 56 affiliated locations, which have restored hair for over 200,000 clients.
DHI was founded by KP Giotis in 1970 and has been dedicated solely to the research, diagnosis and treatment of hair and scalp disorders. Since 45 years, DHI technique offers best and natural treatment to the hair-loss sufferers across the globe. It is a painless procedure that helps to restore the problem of baldness with consistent results. KP Giotis was inspired to create the Direct Hair Implantation (DHI) procedure after suffering from hair loss himself. This procedure takes patient's own hair follicles and places them on the scalp, using special instruments and protocols, ensuring long lasting natural results.
DHI being a leader in the field of medicine has been focusing and investing in R&D since it has been established. This ensures each DHI clinic complies with highest standards to cure hair loss. Since that last 45 years, DHI has expanded its business and simultaneously devoted itself to develop new and innovative techniques to offer proprietary medical tools for Hair Restoration. DHI, as part of its clientele, has many renowned doctors, newscasters and celebrities.
DHI endeavor is to bring world standards in hair restoration to India. With a network of 14 clinics spread across all major cities in India, DHI has grown owing to its superior industry techniques to emerge as the number one player in this category. Every month 2 to 3 thousand clients reach out to DHI for their hair related problems.
For more information visit, www.dhiindia.com
Follow us on FB: https://www.facebook.com/dhiinternational
Click here to Book your consultation with our expert doctors