Continuing the Trend of Setting New World Records!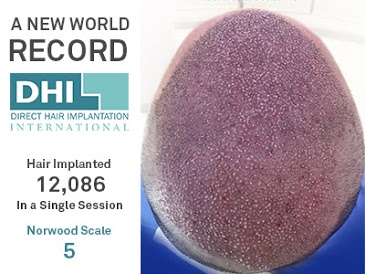 DHI, since its inception, has been a pioneer in setting new world records in the field of hair transplant.
Time and again, DHI has set benchmarks in the history of hair transplant and has recently achieved a new milestone by implanting 12,086 hairs in a single session.
The medical team of DHI International has set a new world record by implanting a whopping number of 12,086 hair follicles in a single session! This world record-breaking session was performed in May 2018 on an individual aged 49 years and suffering from Norwood Scale 5 hair loss.
The previous world record for transplanting the highest number of hair follicles was also held by DHI International in which a total of 11,126 hair follicles were implanted. (https://www.dhiindia.com/blog/dhi-international-transplants-11126-follicles-in-a-single-session-the-highest-in-the-history-of-hair-transplants/).
This milestone by DHI International has reinforced its leadership position in the hair transplant industry in the world.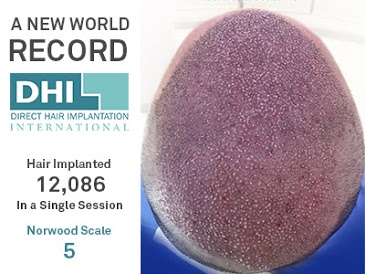 The secret to DHI's success which is enabling it to achieve such records lies in its exquisite and matchless direct hair implantation technique- DHI technique.
A standard three-step procedure is followed at every clinic which ensures 100% safety, natural result, maximum viability and lifetime growth.
Step-1 EXTRACTION PHASE
During this phase, the hair follicles are extracted one by one from the donor area using a specifically designed disposable tool with the diameter of 1mm or less. The follicles are then kept at a specific temperature and in a solution that enhances their development after placement, without separating, cutting or generally handling the grafts.
Step-2 PLACEMENT PHASE
The hair follicles are implanted directly into the region suffering from hair loss using a patented tool, the DHI Implanter, also with a diameter of 1mm or less, without prior creation of holes or slits.
Step-3 NATURAL RESULT
Full control of the depth, direction and angle of the placement of each graft, ensures 100% natural results, maximum viability and that the implanted hair will never fall out and will grow for a lifetime.
The hair transplant procedures like FUT and FUE which are being carried out at other clinics are extremely painful and the graft survival rate is just 50%.
It is our commitment to deliver the best and the unique DHI technique that sets us apart from others.
Click here to Book your consultation with our expert doctors