DHI Chairman receives Diploma from Lyon University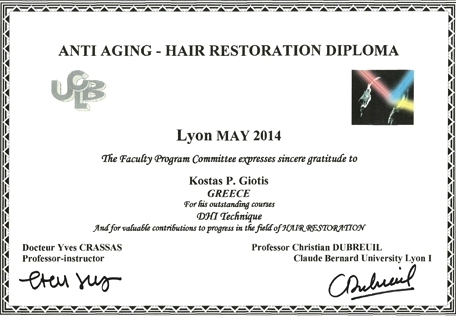 DHI Chairman Mr. K.P.Giotis was awarded diplomas by the University of South Lyon in France after successfully teaching and contributing to the courses and annual lectures of 'Restorative Scalp Surgery' and 'baldness courses' for Prof. Christian Hospitalier and Prof. Christian Dubreuil in Lyon Sud University during the last 4 years.
Mr. K. P. Giotis has been instrumental in building DHI and shaping it up to be one of the leading providers in the hair restoration and regeneration ecosystem. Under his able leadership and excellent mentorship, the DHI team has flourished. The state-of-the-art infrastructure facilities, unparalleled research and development, cutting-edge innovations in hair restoration technologies and 250000+ satisfied global customers bear the testimony of DHI's unprecedented endeavours in hair restoration. 
Book a consultation with the DHI experts today to embark on the journey towards self-reclamation!