Phil Tufnell having a hair restoration at DHI
Phil was a top level international cricketer who played for England 42 times and was responsible on several occasions for winning matches for England with his cunning spin bowling. These days Phil combines his cricketing expertise with his 'mischievous' and 'laddish' reputation as a much-loved television and radio Presenter and is currently a regular captain on BBC's 'A Question of Sport' as well as a presenter on 'The One Show'.
A youthful 47 year old, Phil started to lose hair around his temples in his thirties. When he heard there was an option to combat baldness he decided to go for it!
'I'm not a vain person' he said, 'I don't look in the mirror every time I walk past one, but, I think there is nothing wrong in making the best of yourself. If a room needs redecorating you'd give it a lick of paint!'
'I just want to achieve a natural, thicker look. It was only a day out of my schedule and it was no more painful than a trip to the dentist. I'm really excited to see the results over the next few months. I'd say to anyone else; don't be scared, it's a piece of cake!'
Male pattern baldness affects about six million British men and NHS doctors write thousands of prescription for the drug Propecia each year hoping to halt men's hair loss. However, side effects can include loss in libido and energy.
DHI Founder, Kostas Giotis comments;
"Hair loss can cause a huge amount of psychological distress for men and women across the UK. It can affect an individual's social and professional confidence which can have a direct result on their quality of life. This need not be the case when effective hair restoration techniques are readily available."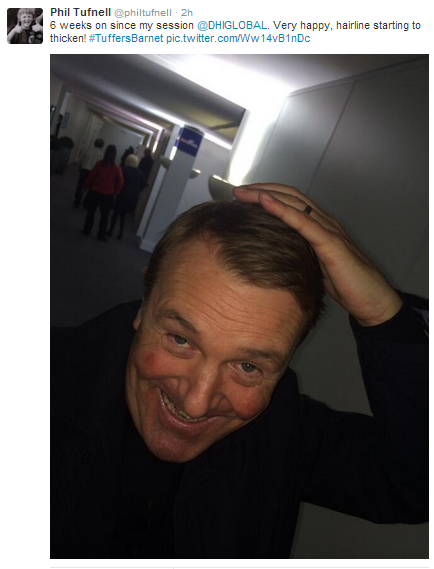 Phil Tufnell's comparative photos, before and right after the procedure.
See more Phil Tufnell's before and right after the procedure photos