Client's Feedback on Her Experience at DHI
Email from our client comparing DHI with Enhance Clinics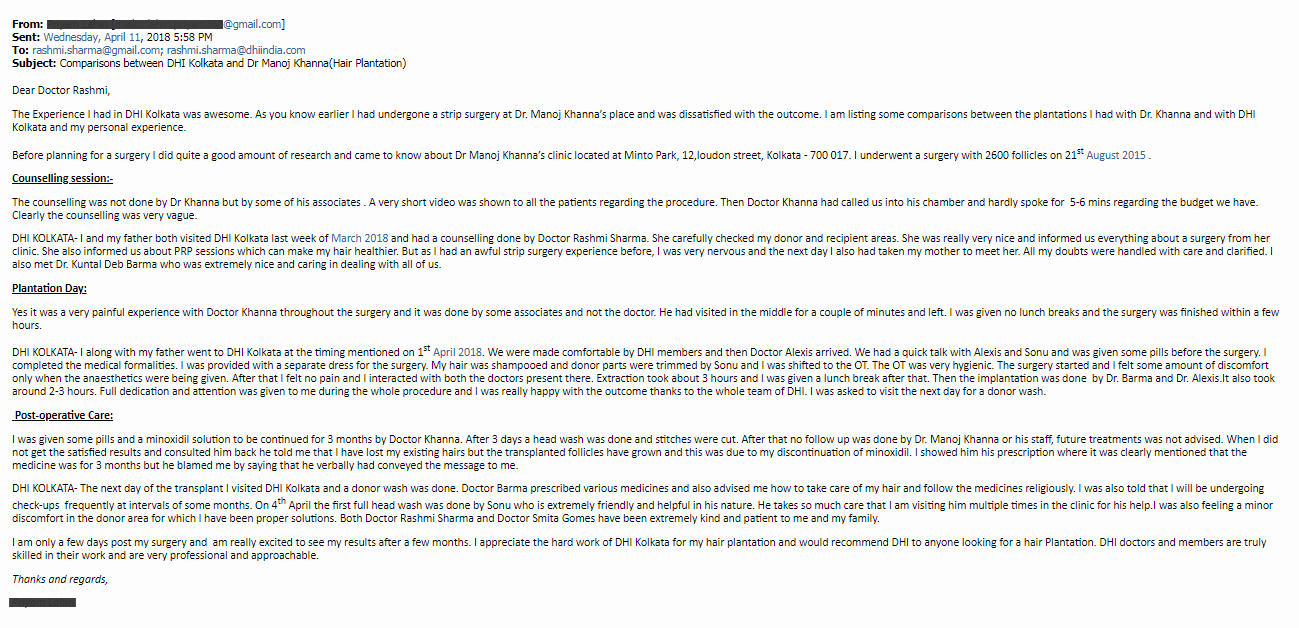 Email Text
Dear Doctor Rashmi,
The Experience I had in DHI Kolkata was awesome. As you know earlier I had undergone a strip surgery at Dr. Manoj Khanna's place and was dissatisfied with the outcome. I am listing some comparisons between the plantations I had with Dr. Khanna and with DHI Kolkata and my personal experience.
Before planning for a surgery, I did quite a good amount of research and came to know about Dr Manoj Khanna's clinic located at Minto Park, 12, loudon street, Kolkata – 700 017. I underwent a surgery with 2600 follicles on 21stAugust 2015.
Counselling Session:
Enhance Clinics – The counselling was not done by Dr Khanna but by some of his associates. A very short video was shown to all the patients regarding the procedure. Then Doctor Khanna had called us into his chamber and hardly spoke for 5-6 mins regarding the budget we have. Clearly the counselling was very vague.
DHI Kolkata – I and my father both visited DHI Kolkata last week of March 2018 and had a counselling done by Doctor Rashmi Sharma. She carefully checked my donor and recipient areas. She was really very nice and informed us everything about a surgery from her clinic. But as I had an awful strip surgery experience before, I was very nervous and the next day I also had taken my mother to meet her. All my doubts were handled with care and clarified. I also met Dr. Kuntal Deb Barma who was extremely nice and caring in dealing with all of us.
Plantation Day:
Enhance Clinics – Yes it was a very painful experience with Doctor Khanna throughout the surgery and it was done by some associates and not the doctor. He had visited in the middle for a couple of minutes and left. I was given no lunch breaks and the surgery was finished within a few hours.
DHI Kolkata – I along with my father went to DHI Kolkata at the timing mentioned on 1st April 2018. We were made comfortable by DHI members and then Doctor Alexis arrived. We had a quick talk with Alexis and Sonu and was given some pills before the surgery. I completed the medical formalities. I was provided with a separate dress for the surgery. My hair was shampooed and donor parts were trimmed by Sonu and I was shifted to the OT. The OT was very hygienic. The surgery started and I felt some amount of discomfort only when the anesthetics were being given. After that I felt no pain and I interacted with both the doctors present there. Extraction took about 3 hours and I was given a lunch break after that. Then the implantation was done by Dr. Barma and Dr. Alexis.It also took around 2-3 hours. Full dedication and attention was given to me during the whole procedure and I was really happy with the outcome thanks to the whole team of DHI. I was asked to visit the next day for a donor wash.
Post-operative Care:
Enhance Clinics – I was given some pills and a minoxidil solution to be continued for 3 months by Doctor Khanna. After 3 days a head wash was done and stitches were cut. After that no follow up was done by Dr. Manoj Khanna or his staff, future treatments was not advised. When I did not get the satisfied results and consulted him back he told me that I have lost my existing hairs but the transplanted follicles have grown and this was due to my discontinuation of minoxidil. I showed him his prescription where it was clearly mentioned that the medicine was for 3 months but he blamed me by saying that he verbally had conveyed the message to me.
DHI Kolkata – The next day of the transplant I visited DHI Kolkata and a donor wash was done. Doctor Barma prescribed various medicines and also advised me how to take care of my hair and follow the medicines religiously. I was also told that I will be undergoing check-ups frequently at intervals of some months. On 4th April the first full head wash was done by Sonu who is extremely friendly and helpful in his nature. He takes so much care that I am visiting him multiple times in the clinic for his help. I was also feeling a minor discomfort in the donor area for which I have been proper solutions. Both Doctor Rashmi Sharma and Doctor Smita Gomes have been extremely kind and patient to me and my family.
I am only a few days post my surgery and am really excited to see my results after a few months. I appreciate the hard work of DHI Kolkata for my hair plantation and would recommend DHI to anyone looking for a hair Plantation. DHI doctors and members are truly skilled in their work and are very professional and approachable.
Click here to Book your consultation with our expert doctors.